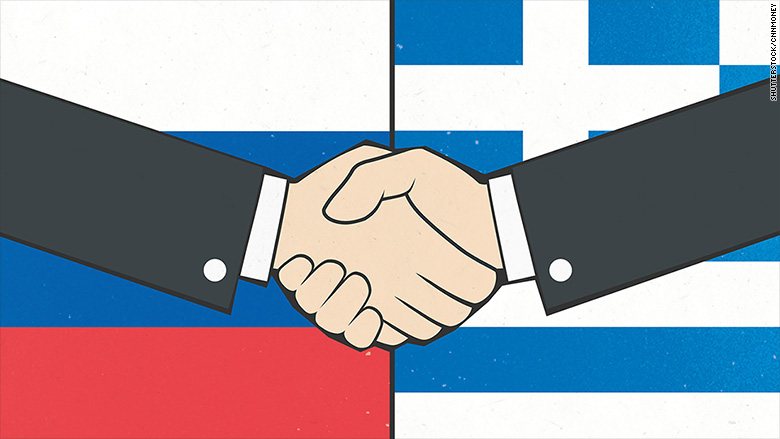 For months, the planets of geopolitics have been shifting, bringing two apparently separate issues into alignment.
In Athens, after seemingly endless negotiations, the debt-ridden Greek government has rejected the demands of its European creditors.
Greece's prime minister spoke of the country's "dignity" in his refusal to accept a deal that would slash pensions.
It now faces a potentially ruinous sovereign default on its debts, and a chaotic crash out of the eurozone. Talks with European finance officials on Thursday could prove decisive.
Greek Prime Minister Alexis Tsipras is reported to have scheduled a meeting with Russian President Vladimir Putin in St. Petersburg on Friday.
Meanwhile, in Moscow, another deadline is fast approaching. Next week, the European Union must decide whether or not to renew sanctions on Russia.
European officials insist this will happen without question.
But all 28 EU member states must cast their vote in favor for the measures to pass.
Greece has a vote. Russia's finances are improving again. It's not hard to see how the idea of a sanctions-busting, debt-alleviating deal may be floated.
Related: China isn't Russia's answer to crisis with the West
Already, Russia and Greece share deep ties from culture and the Orthodox Church, to commerce. Russian tourists visit Greece in large numbers every year.
Russia is already holding out the promise of a swift return of Greek fish, dairy and meat products to the Russian market, when Moscow lifts its ban on imports of EU food imposed in response to Western sanctions.
Russian authorities are already issuing export permits in anticipation of the market reopening at some point, diplomats say. That would be good for Greek farmers and Russian consumers.
Related: Could Greece turn to Russia or China for help?
And a newly re-routed Russian gas pipeline -- due to open in December 2016 -- would cross Greece to supply customers in western Europe, generating transit fees and cheap energy for Athens, and giving Russia an export route that avoids Ukraine.
In recent months, since the election of Tsipras in Athens, the possibility of a deal between Russia and Greece has been looming on the horizon.
It has thus far been dismissed as unrealistic, not least because Russia's own economic crisis has sapped its ability to help out others financially.
But Moscow's finances appear to be stabilizing -- the central bank cut interest rates this week -- and Russia may be the only card Athens has left to play, a Western diplomat said.