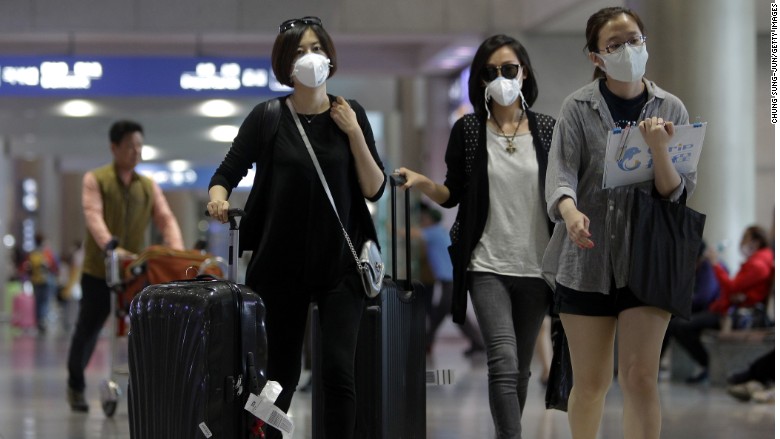 Thinking of canceling your trip to South Korea because of the MERS virus outbreak? Relax, the government will insure you.
More than 100,000 tourists have already dropped plans to visit the country, and if many more stay away the economy could lose billions of dollars.
South Korea now says that foreign visitors will be automatically insured against the risk of contracting Middle East Respiratory Syndrome.
"To relieve the anxiety of the foreign tourists, we will develop and promote [an] insurance package that compensates foreign tourists if they are confirmed with MERS during their stay in South Korea," a spokesperson for the Ministry of Culture and Tourism said.
The government is still working out the details with an insurance company, and it's not immediately clear how much cover will be provided, or when the plan will go into effect.
But it's part of a broader effort to reassure travelers. The country's main tourism website, for example, prominently displays the phone number of a MERS hotline specifically for tourists.
South Korea MERS death toll at 20; 8 more cases diagnosed
The government estimates that a 20% decline in visits during the peak June to August tourism season would cost the industry $900 million in lost revenue. A 50% decrease in numbers would cost $2.3 billion.
South Korea's economy was looking shaky even before the MERS outbreak killed 20 people. On Wednesday, the government announced eight new cases, ringing the total number to 162 -- 18 of whom are in an "unstable" condition.
South Korea races to limit economic fallout from MERS
Last week, the Bank of Korea warned that MERS posed a significant threat, and cut its main interest rate to a record low to try to contain the fallout. By making it cheaper for companies and households to borrow, the central bank is hoping to stoke domestic demand.
South Korea's economy is home to major global companies such as Samsung (SSNLF) and Hyundai (HYMTF), and heavily dependent on exports. Domestic consumption has been weak in recent months, and external demand has slowed.
The International Monetary Fund warned last month that officials should take measures to stimulate the economy if signs of a recovery did not emerge soon. It expects growth to stagnate around 3.3% this year.