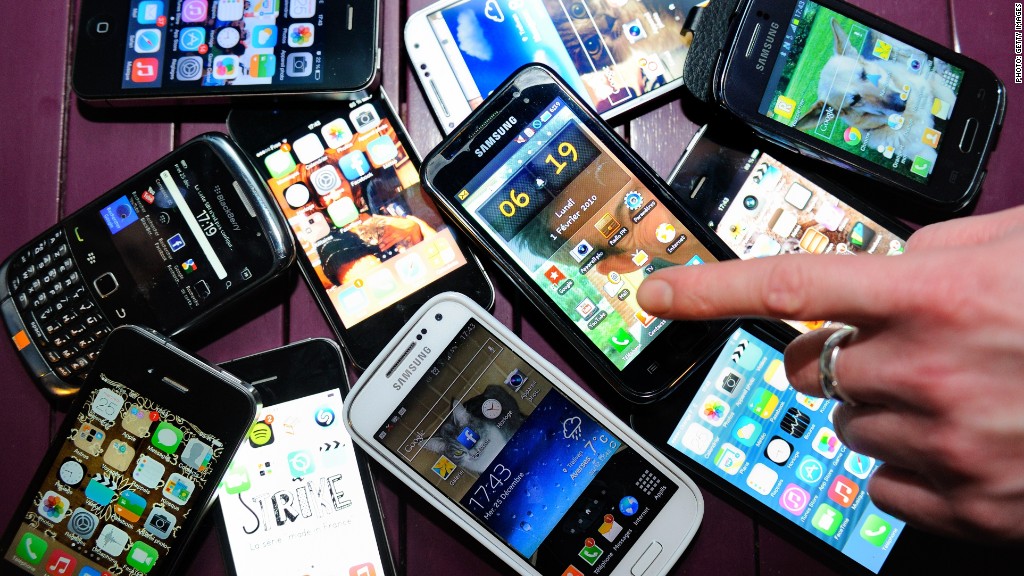 The FCC said that it is fining AT&T $100 million for misleading mobile customers about its "unlimited" data plans.
AT&T (T) subjected its unlimited data plan customers to significantly slower speeds after they used more than 3 GB of 3G data or 5 GB of 4G data in a single billing cycle. AT&T then failed to adequately notify its customers that their speeds would be throttled after they crossed a certain data threshold, the FCC said.
"Consumers deserve to get what they pay for," said FCC Chairman Tom Wheeler in a statement. "Broadband providers must be upfront and transparent about the services they provide. The FCC will not stand idly by while consumers are deceived by misleading marketing materials and insufficient disclosure."
AT&T stopped offering unlimited data plans to new customers in 2009, but some customers have been grandfathered into the old plans. In 2011, AT&T instituted a "maximum bit rate" policy, capping speeds at about a half megabit per second for heavy data users (compared to around 15 Mbps to 20 Mbps for typical 4G download speeds, the same as a home broadband connection).
The cap only goes into effect after an unlimited plan customer hits the threshold, and it lasts only until the end of a billing cycle. Last month, AT&T tweaked its policy to throttle speeds only when the network was "congested," though it didn't specify how it measures that.
But the FCC said that AT&T's unlimited customers had been subjected to slower speeds for an average of 12 days -- nearly half a billing cycle. The FCC noted that throttled customers would have trouble connecting to mapping services or streaming video over AT&T's network.
AT&T says it will fight the fine.
"We will vigorously dispute the FCC's assertions," said Emily Edmonds, spokeswoman for AT&T. "The FCC has specifically identified this practice as a legitimate and reasonable way to manage network resources for the benefit of all customers, and has known for years that all of the major carriers use it. We have been fully transparent with our customers, providing notice in multiple ways and going well beyond the FCC's disclosure requirements."
Related: The cell phone data scam
Verizon (VZ) abandoned similar plans to slow down 4G connection speeds for unlimited data plan customers in October 2014 after Wheeler openly called the plan "disturbing." The FCC issued a similar notice to T-Mobile (TMUS), which improved its notifications when it throttles unlimited plan customers. The commission also sued Tracfone for $40 million in January for falsely advertising its unlimited plan.
The FCC lashed out at AT&T last October, but AT&T refused to back down.
The agency said that it has received thousands of complaints from unlimited data plan customers who said that AT&T misled them.
"Unlimited means unlimited," said FCC Enforcement Bureau Chief Travis LeBlanc. "As today's action demonstrates, the Commission is committed to holding accountable those broadband providers who fail to be fully transparent about data limits."