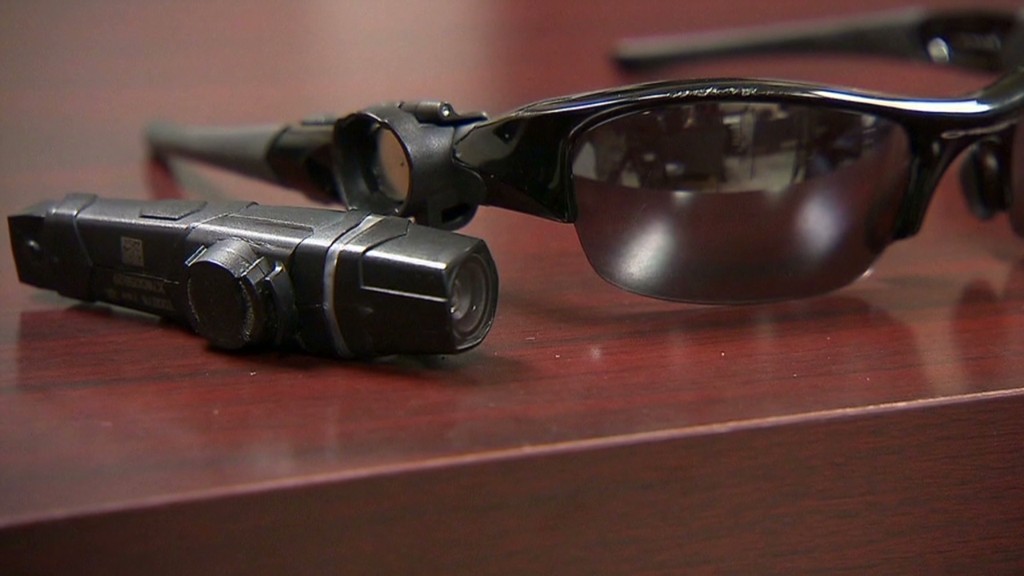 Law enforcement agencies around the country are realizing that they need their officers to wear body cameras. And that's great news for Taser.
The Dallas Police Department just placed an order for 1,000 of Taser's Axon body wearable cameras over the next three years, and 400 of them will ship this quarter.
Taser said this is the third-largest order ever. Only the Cleveland and Charlotte-Mecklenburg, N.C., police departments have bought more Axons. The company said that more than 41,000 Axons have been purchased by over 3,000 agencies so far.
While Taser (TASR) is probably best known for its stun guns, the company's Axon unit is growing much more rapidly than its weapons division.
Axon sales rose 73% in the first quarter compared to an 18% increase for Taser's stun guns and other weapons.
Taser also announced big orders for Axon -- as well as its Evidence.com digital management service -- from police departments in Portsmouth, Va., Vallejo, Calif., Salt Lake City and New Orleans this quarter.
Related: Taser says 16 major cities now have body cameras for police
Shares of Taser were up more than 2% Thursday following the Dallas news. The stock has soared more than 30% so far in 2015 and 155% over the past 12 months.
Demand for body cameras has increased following the deaths of black men at the hand of police officers in the past year in Ferguson, Mo., Staten Island, N.Y., Charleston and Baltimore.
Democratic presidential candidate Hillary Clinton has called for body cameras to be mandatory for all police officers.
That's a reason why shares of another smaller company that makes a competing line of body cameras, Digital Ally (DGLY), have surged more than 350% in the past year as well.
Related: Why Baltimore police officers were not wearing digital cameras
The stock rose more than 10% Thursday after two Wall Street analysts initiated coverage on the company with buy ratings.
Of course, we are a long way from having all cops wearing body cameras. There are many concerns that could prevent that from happening.
Many smaller cities and towns may not be able to afford the cameras, or the massive amounts of digital storage they'll need for all the videos they are recording.
There will obviously be major privacy concerns as well if police are recording everything, but video footage could help innocent suspects as well as officers.
"We see several benefits to using body-worn cameras, including transparency and increased police-community trust, officer protection from false allegations and invaluable evidence for an investigation and prosecution," said Dallas Police Department Assistant Chief Thomas Lawrence in a statement about the Axon purchases.