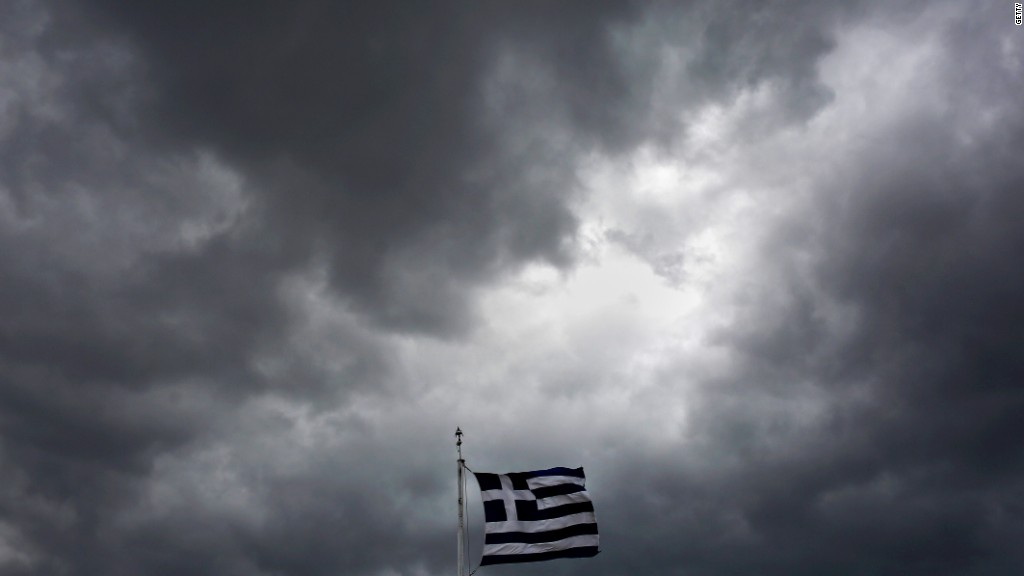 If you're preparing to vacation in Greece this summer be sure to pack a swimsuit, hat...and plenty of cash.
The debt-ridden country is spiraling into a deepening financial crisis and may have to limit the amount of cash people can withdraw from its banks.
That could make tourists nervous.
Britain's largest provider of travel money, the U.K. Post Office Travel Money, has told vacationers to take enough cash in euros to see them through their holiday.
Having cash on hand would help avoid the impact of any sudden currency crisis.
Greece's economic troubles stretch back years and tourists have been caught up in the mess before. The Post Office said ATMs ran short of cash in 2013, while shops and restaurants were reluctant to accept credit and debit cards.
Related: D-Day for Greece: Deal, delay or default
Greece is running out of time to reach an agreement with its frustrated lenders. Negotiations are in their final weeks and the country must agree to certain reforms in order to access much-needed funds to pay looming debts to the IMF.
If it defaults, the government would ultimately be forced to adopt a new currency. But even if that happened, euros would still be accepted for sometime.
"Any changes would be highly unlikely to happen overnight, any switch to a new currency would take time and euros would likely be accepted in the interim," said the Association of British Travel Agents.
Greeks have already moved truckloads of money out of the country. The central bank say roughly 30 billion euros ($34.2 billion) was withdrawn from Greek bank accounts between October 2014 and April 2015. People are hoarding cash as they worry about the stability of the banking system.
Related: Greece: The ultimate doomsday scenario
With thousands of islands and plenty of historical appeal, tourism has been an key industry for revenues and jobs throughout the crisis. The country's distressed economy -- GDP is 26% lower than before the financial crisis -- relies on tourist dollars.
The sector accounted for around 16% of Greece's GDP in 2013, according to the World Travel and Tourism Council.