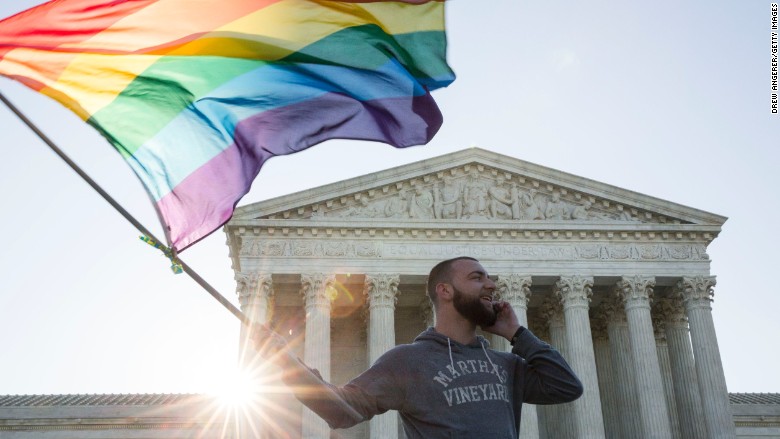 The right to marry is more than just a civil rights victory, it's a big financial win.
While same-sex couples won the right to legally marry in 2013, those who live in the 13 states that still don't recognize their marriage are denied spousal and death benefits from Social Security that could amount to thousands of dollars per year.
But that could change this month if the Supreme Court rules in favor of same-sex couples, forcing those states to recognize LGBT marriages and extend all federal benefits to those couples.
Related: More on same-sex marriage
Social Security offers benefits to married couples that singles don't get. And same-sex couples in those 13 states are considered single in the eyes of Social Security -- even if they were married in a different place where their marriage is recognized.
The states include Arkansas, Kentucky, Georgia, Louisiana, Michigan, Mississippi, Missouri, North Dakota, South Dakota, Nebraska, Ohio, Texas and Tennessee.
So a same-sex couple who married legally in Pennsylvania but live in Ohio, cannot claim Social Security benefits as a married couple.
That could mean missing out on serious money from two different Social Security benefits.
One is the spousal benefit. It helps couples where one spouse makes more than the other, while both are still living. The payment of the lower-earning spouse could be increased to half of the other spouse's payment.
On average, that's an extra $780 a month that same-sex spouses may miss out on, according to a report from the Human Rights Campaign.
Related: Tylenol's #HowWeFamily ad features gay couple
The second is a survivor benefit, which you receive if your spouse dies. If your deceased spouse's Social Security benefit was bigger, you are entitled to that check instead of yours. If you aren't married, you don't get that option.
Same-sex couples also don't qualify for the one-time payment of $255 that the Social Security Administration gives to surviving spouses to help with expenses like burials.
The Supreme Court heard arguments in the case in April and is expected to rule next week. At the crux of the decision is whether states have the right to decide their own marriage laws. LGBT couples got the right to marry on the federal level in 2013, when the Supreme Court struck down the Defense of Marraige Act.
Will you be impacted by the Supreme Court's decision? Share your story by emailing Katie.Lobosco@turner.com.