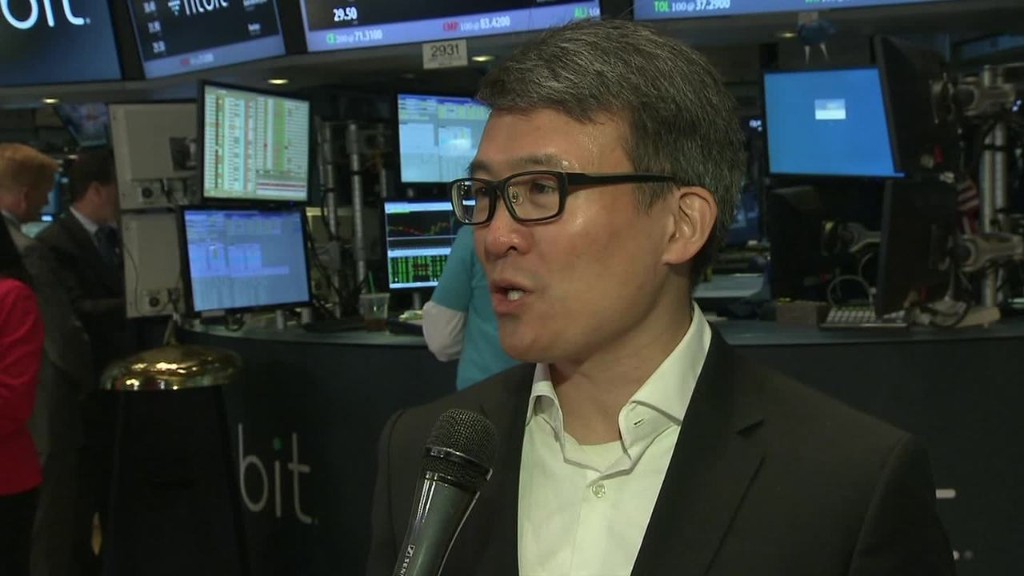 Surge isn't just the name of a popular Fitbit product. It's the most appropriate word to describe its stock.
Shares of the wearable fitness tracker maker were up 20% Monday. That follows the 48% gain in its market debut on Thursday and another 9.5% increase Friday.
Fitbit (FIT) -- whose Surge records steps taken, the numbers of calories burned and your heart rate -- has doubled from its initial public offering price. The company, founded in 2007, is worth more than $8 billion.
To put that in perspective, Fitbit is now more valuable than another hot tech company that went public last year and soared: GoPro (GPRO).
Related: Fitbit up nearly 50% on first day of trading
Fitibt is also worth $3 billion more than BlackBerry (BBRY), the struggling smartphone company that has been around since 1984 and is scheduled to report its latest quarterly results on Tuesday morning.
And Fitbit's market value is higher than 62 companies in the S&P 500, including Chesapeake Energy (CHK), AutoNation (AN), Cablevision (CVC) and Transocean (RIG).
Does Fitbit, which is kind of a one-trick pony in tech gadgets, really deserve to be worth this much?
The stock certainly isn't a bargain. But the valuation isn't as insane as you might think. Fitbit is profitable.
Fitbit reported net income of $48 million in the first quarter. Assume that the company is able to replicate that for the rest of the year and you're looking at an annual profit of $192 million.
Based on that rough estimate and its current market value, Fitbit is trading at about 42 times 2015 earnings forecasts.
Not cheap. But not dot-com bubble era expensive either. Facebook (FB), for example, is also trading at more than 40 times 2015 earnings forecasts.
And this price seems reasonable for a company growing as rapidly as Fitbit. Sales more than tripled in the first quarter.
Still, there are two big problems facing Fitbit that investors have to recognize.
Related: Fitbit sued by rival wearable company Jawbone
First, Wall Street's expectations for the company are now going to be ridiculous. So investors will need to pay close attention to its first earnings report as a public company. That will probably be in July or early August.
Momentum companies have often been whacked by investors even when they beat forecasts because investors wanted even more.
Just look at GoPro. The company went public last June at $24 a share. By October, the stock had soared to nearly $100. It has since pulled back to about $55.
But there's nothing necessarily wrong with the company. Analysts still expect strong levels of sales and earnings growth for GoPro. The stock just rose too far too fast.
The other concern for Fitibit? It may need to diversify. That's an issue facing GoPro as well.
Both Fitbit and GoPro have attracted cult followings because of the quality of their products.
Related: Are smart clothes the next big fitness craze?
But that doesn't always translate into long-term success. BlackBerry was once a market leader too.
Companies that do one thing really well often lose their lead when faced with competition from a larger company making a multi-purpose device.
BlackBerry was supplanted by Apple (AAPL) and other smartphone makers.
And remember the old Flip camera? That product was red hot for awhile. You could buy it in drug stores and easily post videos to YouTube from it. Cisco (CSCO) wound up buying the company that made it.
But once shooting videos on smartphones became standard, nobody needed a Flip anymore. Flip was shut down just two years after Cisco acquired it.
You can argue that Fitbit has to be worried about Apple doing the same thing to it too.
The Apple Watch is more than a fitness tracker. And it may not be hurting Fitbit now, but what happens if the second version of the Watch becomes an even bigger mainstream success with even more enhanced fitness features?
That could eat into Fitbit sales -- and make its stock price fall faster than someone's heart rate after a hard workout.