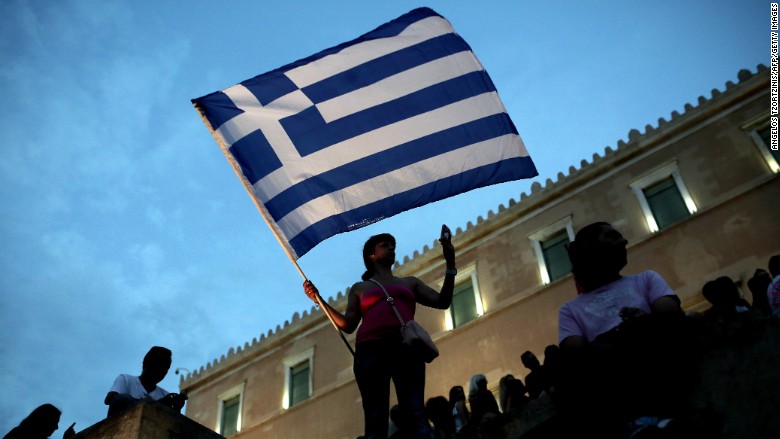 Global markets are set for some wild swings once a final decision is made on a Greece debt deal.
If there's a deal, stocks are expected to shoot higher, especially in Europe. But no deal could trigger an all-out market correction in Europe, as well as ripple effects in other parts of the globe. Currencies and bond markets would also be rattled.
"Even though [investors] may be tired of hearing about Greece, [they] should consider the negative potential impacts on global markets," warned Paul Christopher, the head of international strategy at Well Fargo Investment Institute.
Here's what the experts are predicting could happen in both scenarios:
Deal: Across the board, market watchers agree that stock markets will rally if there is a solution to the Greek debt crisis. However, opinions differ over how high the markets may go and how long the gains can be sustained.
Mads Pedersen, head of global asset allocation at UBS Wealth Management, believes politicians will figure out some sort of Greek solution and European stocks will rally by another 5% to 9% by the end of the year.
On the other hand, strategist Christopher Vecchio from DailyFX in New York expects a more muted, short-term market reaction as he anticipates that Greece and its creditors will find only a temporary solution to help the indebted nation avoid a default over the next few weeks.
"Any deal would only provide a short-term boost to risk assets globally," he told CNNMoney. "It's possible that European and U.S. equity markets alike burst higher over the course of a few trading session -- perhaps 1% to 2% over the course of one to three days."
Vecchio doesn't expect any further push higher since he believes expectations for a Greek deal have already been priced into the markets.
Related: Take cash if you're planning a Greek holiday
Experts are split over how currency markets will react to a deal, with some predicting the euro will jump while others expect a drop. To avoid making the wrong bet, UBS recommends betting on the British pound, which is expected to remain strong throughout the year.
No deal: If Greece is unable to reach a debt deal with creditors and subsequently defaults, experts predict a swift sell-off that could bring European markets into correction territory.
The "eurozone will take it on the chin," predicts Chris Beauchamp, a senior market analyst at the stock broker IG.
It's predicted U.S. markets would also fall, though the move lower would be more modest.
Meanwhile, it's widely expected that investors will rush into U.S. Treasuries and German government bonds -- which are considered safe havens -- while selling bonds of weaker "peripheral" eurozone nations like Portugal, Spain and Italy.
A default and Greek exit from the eurozone would prompt "uncertainty about which other financially troubled countries may follow in the future," said Paul Christopher from the Well Fargo Investment Institute.
Related: This is the ultimate doomsday scenario for Greece
But then again, the market is an unpredictable beast, warns Mike O'Rourke, chief market strategist at JonesTrading.
"Markets remain distorted and the situation remains fluid, thus it is hard to have a high confidence level in anything playing out to plan," he told CNNMoney.