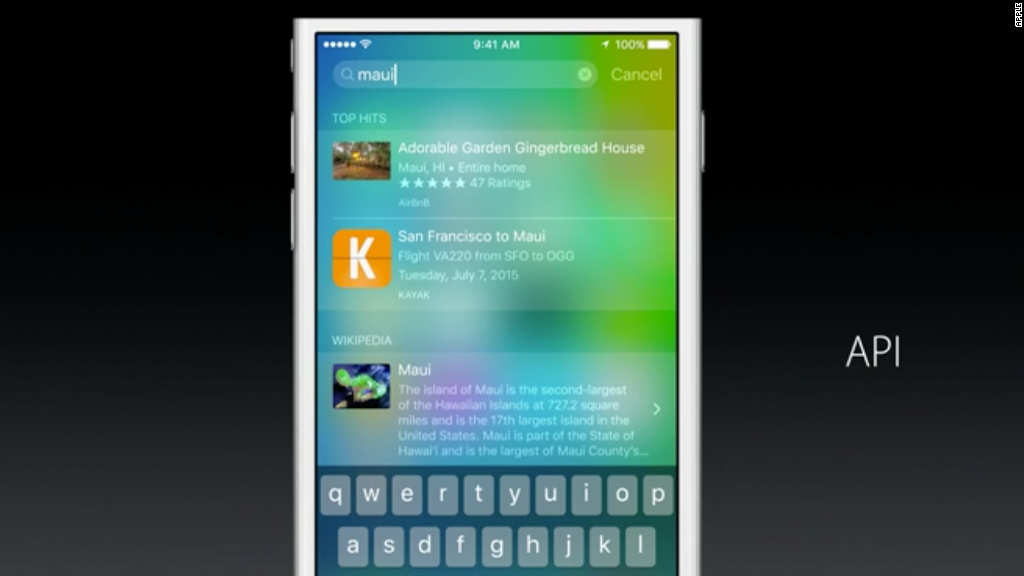 The most annoying part of updating your iPhone is figuring out which apps, songs and photos to delete so you have enough free space for the upgrade.
But the latest version of the iOS 9 preview features a clever solution for that notorious problem. IOS 9 will automatically delete apps on your iPhone before installing the new operating system. Then it will reinstall the deleted apps after the installation is complete.
A pop-up notification will warn iPhone and iPad users that they have insufficient space for the download, giving them the option of automatically deleting and reinstalling their apps.
The new feature was first reported in Apple (AAPL) blog MacRumors.
At Apple's Worldwide Developers Conference in San Francisco earlier this month, Tim Cook said he wanted iOS 9 to be the most quickly adopted iPhone operating system ever. To make that happen, he pledged to make the update process as simple and painless as possible.
IOS 8 required a stunning 4.6 GB of free space to install, forcing millions of iPhone owners to frantically delete precious photos, videos and apps in order to get the latest software on their gadgets.
By contrast, iOS 9 will require just 1.3 GB of free space when upgrading.
But if your iPhone or iPad storage is stuffed to the gills, you'll no longer need to panic. Apple will take care of deleting and reinstalling your apps for you.
IOS 9 is set to be released this fall. Software developers can currently test out the operating system in preview mode, and the public will be able to preview iOS 9 next month.