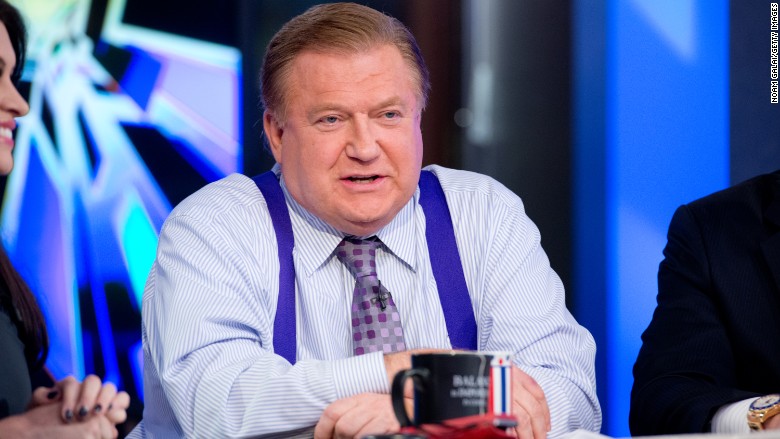 Bob Beckel, a Fox News host who has struggled with prescription drug addiction, was let go Thursday in a move that a top executive blamed on Beckel's "personal issues."
Beckel, a former Democratic consultant who had become the most prominent left-leaning voice at the conservative cable news outlet, had been off the channel for several months. In March, Fox News said that Beckel was off the air recovering from back surgery. Beckel said on Twitter at the time that he hoped to return soon to "The Five," Fox's highly rated evening panel show on which he often served as the lone liberal commentator.
A month later, the channel released a statement indicating that Beckel had checked into a rehab facility to receive treatment for a prescription drug addiction.
The addiction appears to have been a factor in Fox's decision to part ways with Beckel. Bill Shine, the channel's executive VP of programming, said that patience with Beckel had run out at the channel.
Related: Roger Ailes signs new contract with Fox News
Related: Sarah Palin and Fox News split - again
"We tried to work with Bob for months, but we couldn't hold The Five hostage to one man's personal issues," Shine said. "He took tremendous advantage of our generosity, empathy and goodwill and we simply came to the end of the road with him."
Shine said that Juan Williams and Geraldo Rivera "will be among those rotating on the show for the near future."
On Thursday evening, hours after the news came out, Beckel said on Twitter that Fox's statement "baffles" him and that he will "respond in the appropriate forum."
In a subsequent tweet, Beckel said he "can't understand the anger in Fox's statement" and that he simply used the time off to recover from a "major back surgery" that left him unable to walk.
"I took no advantage I got well," Beckel said.
In another tweet, Beckel said that the channel treated him well, including during his recovery, but he once again expressed confusion over Fox's harshly worded statement.
When Beckel's departure was first reported by Mediaite on Thursday afternoon, the move didn't appear to be acrimonious. A spokesperson for Fox told the website that the two sides were parting ways on "amicable" terms.
Beckel has been in the channel's doghouse before.
He apologized last summer for his use of the derogatory term "Chinamen" on Fox News. A few weeks later, Beckel took to Twitter to issue a cryptic and somewhat incoherent apology for an on-air comment that he said left his "Fox boss" unhappy.
Beckel is the second member of Fox's on-air talent stable to be treated for substance abuse in the last year. Fox News anchor Gregg Jarrett was arrested at the Minneapolis-St. Paul airport in May of 2014, right after checking out of a rehab facility, for exhibiting disorderly and intoxicated behavior. Jarrett was back on-air by the end of the year, and he has credited recently re-signed Fox News chairman Roger Ailes for aiding his recovery.