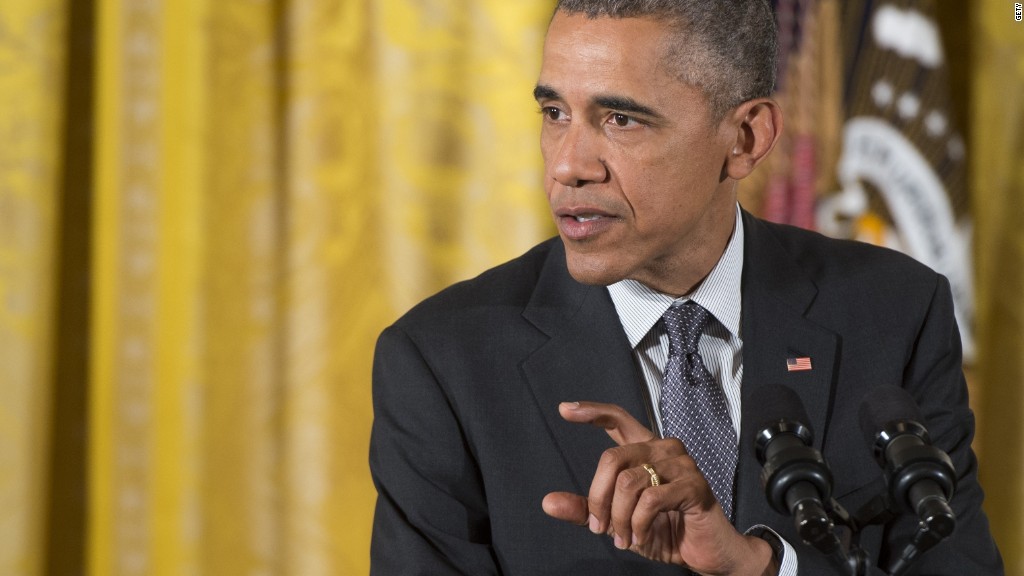 More than 10 million salaried workers could become automatically eligible for overtime pay by 2016 under an expected federal rule change.
Today, the only way you're automatically guaranteed time and a half after logging 40 hours a week is if you earn less than $23,660 a year ($455 a week).
The Department of Labor is proposing raising it to roughly $50,440 ($970 a week) and automatically adjusting it over time. This would only be the second increase since 1975.
"That's good for workers who want fair pay, and it's good for business owners who are already paying their employees what they deserve -- since those who are doing right by their employees are undercut by competitors who aren't," Obama wrote in an op-ed in the Huffington Post previewing the change.
Advocates for the change see a big win for workers.
"The current threshold ... is so low that workers earning less than the poverty level for a family of four may be excluded from overtime pay protection," said Christine Owens, executive director of the National Employment Law Project.
The liberal Economic Policy Institute estimates that the rule change will provide overtime coverage to more than 40% of workers, up from 8% today.
The business community sees the issue differently.
A report from the National Retail Federation, for instance, contends that implementation of the new rules will cost retailers and restaurants millions of dollars, and they will "hollow out" low- and mid-level management positions, curtailing career advancement for middle class workers, especially in rural states.
Today, salaried employees who make more than $23,600, but less than $50,440, are not eligible for overtime if they perform so-called "exempt" managerial duties.
The complaint among advocates is that while many workers' duties legitimately may be classified as managerial, there are also many lower-paid workers who are misclassified as managers and thereby miss out on overtime pay. Under the new rules, both groups will be made eligible if they make less than $50,440.
Related: 4 ways new overtime rules may affect your paycheck
The change in the income threshold will require employers to reclassify millions of salaried workers as hourly workers -- and that could cause them to lose some benefits, said Tammy McCutchen, who used to run the Labor Department's Wage and Labor Division and is now a lawyer with Littler Mendelson.
"The higher up you go in the corporate structure, the more the market demands better benefits," McCutchen said. And hourly workers are considered on a lower level than salaried ones.
Some companies, for instance, offer merit-based bonuses to salaried workers but not to hourly ones. Or they may be put on a different vesting schedule for vacation days.
Their morale could suffer too.
For instance, while salaried workers have some latitude to schedule their day, hourly workers may have their pay docked or have to use vacation time for things like midday doctor's appointments.
In addition, some employers may try to get around paying overtime by insisting that workers put in no more than 40 hours a week.
Or companies may lower eligible workers' base pay to offset any overtime. So even if they work overtime, they may not get paid a dime more than they do now.
The new rules are aimed at addressing what the White House says is an erosion of the rules that established the 40-hour workweek -- a "linchpin of the middle class."
They will be subject to public comments for 60 days, after which the Labor Department will review comments before issuing a final rule change. The agency expects the new overtime rules to go into effect in 2016, although it's not clear if there will be pushback from Congress.