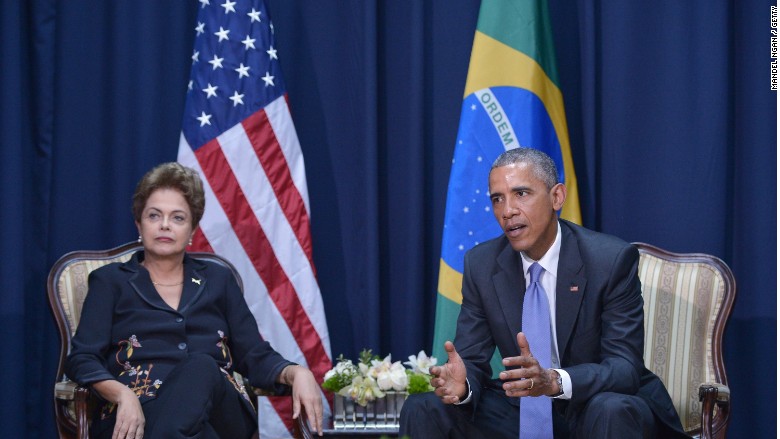 The United States stood on the sidelines while Brazil was a stud. Now America is the All-Star economy.
The tables have turned between the two nations' economies, and it's a much different story from just a few years ago.
Brazil's President, Dilma Rousseff, visited President Obama Tuesday at the White House as Brazil's economy continues to shrink. When Obama visited Rousseff in 2011, Brazil was coming off a stellar year of economic growth and the U.S. was making tepid progress in its recovery from the recession.
Here's how Brazil went from boom to bust -- and why it's looking to the U.S. for inspiration now.
Related: Brazil's scandalous boom to bust story
Brazil's 2015 bust: Brazil's economy slammed the brakes in the past year. It's main engine of growth -- commodities -- has slowed to a stop as prices for oil, gas and metals have plummeted since last summer. Unemployment recently hit a four-year high, and inflation is causing people's bills for things like electricity to rise sharply.
Brazil's economy is expected to contract about 2% this year. Some U.S. economists, like those at Bank of America (BAC), believe America's economy will grow over 2% in 2015.
The turbulence is paying out with Brazil's currency. The Real has lost about 30% of its value in the past year alone. After years of a gaining steam, the Real began a sustained decline against the dollar in 2011 -- shortly after Obama visited Brazil.
While Rousseff would prefer to be spending her time fixing the economy, her government is embroiled in a corruption case.
Related: Is Argentina's economy pulling a tango turnaround?
America's comeback: Obama, meanwhile, is having one of the best weeks of his presidency after major Supreme Court victories. The U.S. economy is also on the upswing -- at least compared to where it was.
When Obama went to Brazil in 2011, U.S. unemployment was still 9%. The Federal Reserve was pumping money into the economy with its stimulus program to try to finally get the U.S. on the right track after the Great Recession.
The United States economy has made big strides ahead since then. Unemployment is now 5.5%. The Fed stopped its stimulus program in October. The economy is looking so strong that the Fed could raise interest rates for the first time in almost a decade.
While Europe stagnates and China's growth is slowing down, the U.S. is leading the global economy.
On Tuesday, Rousseff and Obama touted how much their countries' economic ties have strengthened. U.S. exports to Brazil are up, and the two leaders expect to double trade within the next decade. But it may take years before Brazil bounces back.