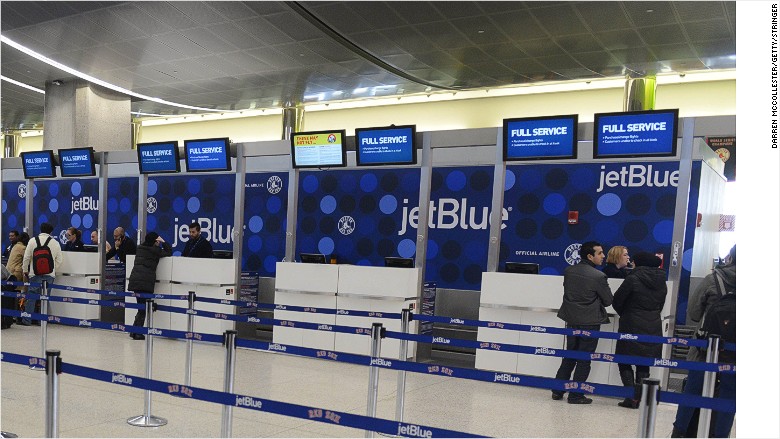 Attention JetBlue passengers: that checked bag is now going to cost you.
Starting Tuesday, consumers will have to pay to check their bags on the airline, either by purchasing a ticket that covers the fees, or paying them separately at the airport or online.
JetBlue passengers will have three options when buying tickets: Blue, Blue Plus and Blue Flex. It will cost fliers with a Blue fare $20 to check their first bag when checking-in online or at a kiosk. If they wait to check-in at the airport counter, the fee goes up to $25. A second checked bag flies for $35.
Blue Plus tickets include the cost of a checked bag, while a second checked bag is $35. Blue Flex fares cover the cost of two checked bags.
All passengers will pay $100 for a third checked bag.
There is an average $15 difference between Blue and Blue Plus tickets and around an $85 difference between Blue Plus and Blue Flex, according to Marty St. George, JetBlue's executive vice president of commercial and planning.
Related: Why planes used to fly half full
The company announced the fees last year, but didn't detail when they would go in effect.
While the news might dampen fliers' budgets, investors seem to like the change. JetBlue's (JBLU) stock was up around 2.5% Tuesday morning.
The tiered price system brings lower cancellation and change fees, and all three levels of tickets can be purchased as refundable and non-refundable.
Baggage fees brought in more than $864 million for the U.S. airline industry in the first quarter of 2015, according to the Department of Transportation. Delta collected the most fees at $198 million in the quarter, while jetBlue hauled in almost $22 million.
The airline company, which claims to have the most legroom in coach of any U.S. airline, said its onboard perks, including free snacks, soda and TV will remain in place.
"This is not a scheme to take a lot of stuff away and make you buy it all back," said St. George.
Compare: When it comes to legroom, here's how airlines compare