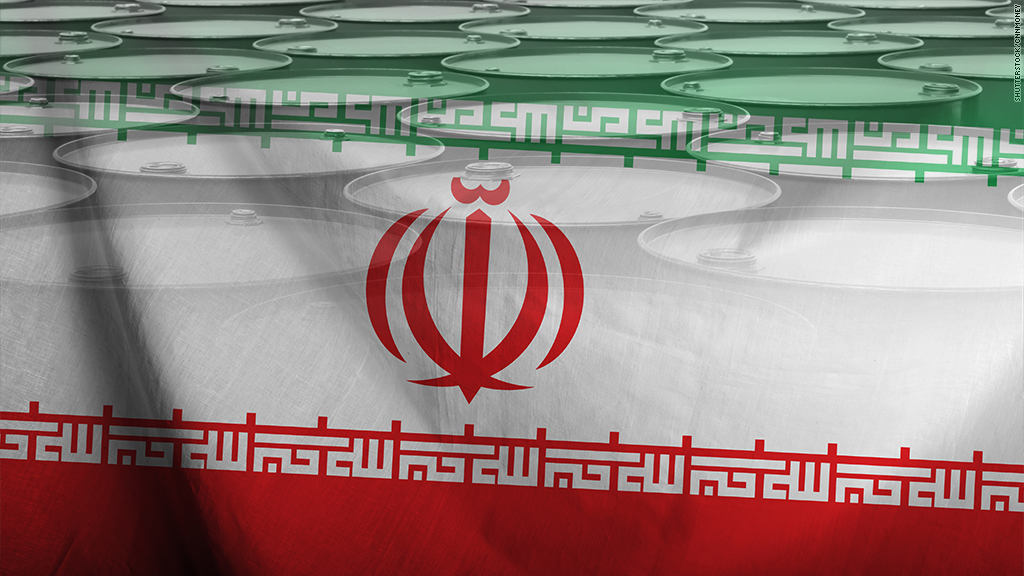 Iran has somewhere around 158 billion barrels of oil reserves, the fourth largest in the world. It also sitting on the second largest reserves of natural gas. But much of that has not been developed yet, due to the isolation it has faced in recent years.
U.S. oil companies have been largely blocked from the country since Iran's 1979 revolution, and as sanctions tightened over the last several years, other exploration companies have been unable to operate there. Russia's Gazprom and China's CNPC have helped develop some oil and gas projects, but they too have run into trouble, mostly over disagreements with the Iranian government over delays in investment levels, which were tied to fears over international sanctions.
When international companies do operate in Iran, the Iranian government does not allow foreign ownership of its oil reserves. Instead, foreign companies are paid for production, but cannot book the reserves (Iran might reform these terms in the coming months). That has deterred investment.
Related: Why Buffett bet a billion on solar
Nuclear deal talks continue: However, with the real possibility that Iran and the West reach a détente soon, removing sanctions from the Iranian economy, the oil majors could rush in. While the July 1 deadline has passed, talks are ongoing and there's a new deadline of July 7.
That could open up new opportunities for it to not only sell the large volume of oil that it has sitting in storage, and boost output at some of its existing oil fields, but Iran could also bring in international oil companies to develop some new fields.
And they are certainly interested. At the OPEC meeting in early June 2015, several oil companies gushed over the potential in Iran. They also visited Iran for more direct talks. The FT reports that Royal Dutch Shell and Italian oil giant Eni traveled to Tehran in May and June to discuss areas of cooperation.
Related: The latest from the Iran nuclear deal talks
Iran has a lot that the oil majors want to get their hands on. Due to a lack of investment and trouble accessing capital, Iran has not been able to significantly lift its oil and gas production. The IEA says that about half of Iran's oil production comes from fields that are more than 70 years old.
So what's next? Most of Iran's major oil fields are onshore. According to the EIA, Iran has several upstream projects in the works, and the removal of sanctions could accelerate their development. The Yadavaran field, which is being developed by Sinopec, could come online in three phases over the next several years. It could begin pumping 85,000 barrels per day in 2016, but eventually, after the third phase is completed, the field could produce around 300,000 barrels per day.
The North and South Azadegan fields, located near the border with Iraq, could also boost Iran's output. CNPC is developing North Azadegan and expects to produce 150,000 barrels per day by the end of the decade. South Azadegan could produce 260,000 barrels per day, but doesn't have a developer yet.
Related: Are We Headed For Global Warming Collapse?
The natural gas play: Iran's natural gas sector will also see a lot of attention. The South Pars field is a massive gas project that accounts for 40 percent of Iran's gas reserves. Iran has laid out 24 phases to develop South Pars, which could eventually total $100 billion in development costs. Only about one-third of the phases are completed.
There are a variety of other smaller natural gas fields in the Persian Gulf, which would require significant international investment before they can become productive.
Iran may also hold around 500 million barrels of oil and 2 trillion cubic feet of natural gas in the Caspian Sea, but that has not yet been developed. Territorial disputes with Azerbaijan and Turkmenistan have blocked any meaningful development.
Related: How Greece Crisis Could Drag Oil Prices Down
In short, as multinational companies find it increasingly difficult to find and develop new large oil and gas fields, Iran remains one of the few places that offers them an enormous upside.
Of course, there would still be a lot of uncertainty, even if Iran and the West reach an agreement. The possibility that sanctions snap back because Iran might run afoul of the terms of the agreement adds an element of risk for international oil companies.
"Businesses have become terrified about doing business with Iran, and it's not easy to un-terrify them," the president of the National Iranian American Council, Trita Parsi, told Bloomberg.
With the threat of a return of sanctions looming over Iran, there may not be a stampede into the Persian Gulf. All of this may be academic anyways if Iran and the West cannot come to an agreement in the next few days.
Nick Cunningham is a Washington DC-based writer on energy and environmental issues for Oilprice.com. You can follow him on twitter at @nickcunningham1.