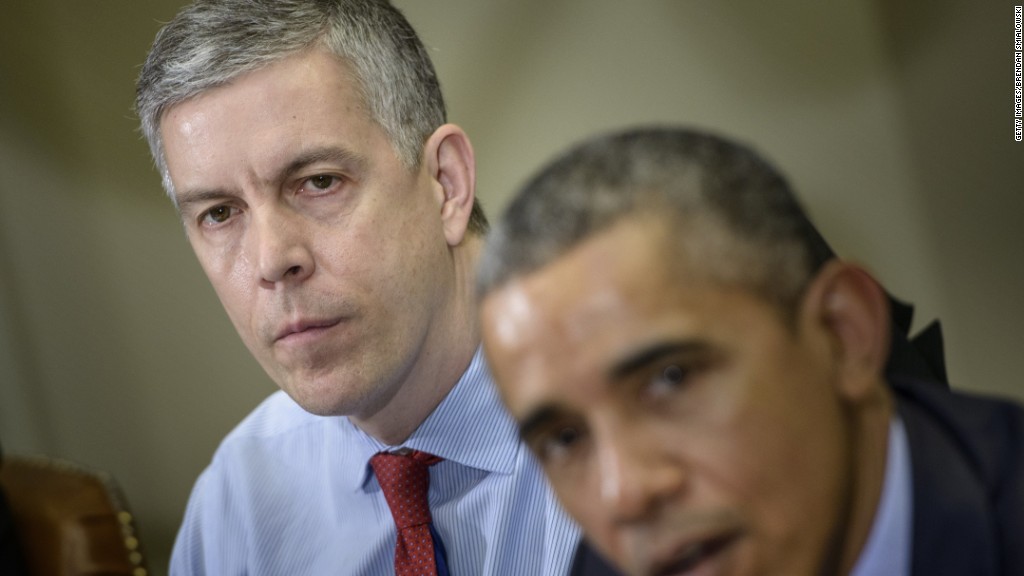 The Obama administration is cracking the whip on for-profit colleges.
Starting Wednesday, the Department of Education will make sure students don't take on more debt than they can handle by holding schools accountable for the return on investment of their degree programs.
In many cases, especially with for-profit colleges, institutions have over-promised earning potential and students have taken on mountains of debt that they can't repay.
The new set of rules, called the gainful employment regulations, require colleges to track their graduates' debt and employment to prove that their programs don't fall short of federal guidelines. Institutions now have to provide information on program costs, how much students earn after they graduate and how much debt they could accumulate.
This will let the Department see which programs are saddling students with debt and leaving them with low earning prospects, and which offer affordable training that leads to well-paying jobs.
"There are too many [institutions that] have been morally unconscionable with what they've done ... Too many of these guys took advantage," Education Secretary Arne Duncan told CNN's Christine Romans on Wednesday. "People have been taking out these big loans, ending up in a worse financial situation than when [they] started. Nobody signs up for that."
Related: Government will erase debt for Corinthian Colleges students
Schools will have to show that a typical graduate's estimated annual loan payment does not exceed 20% of his or her discretionary income, or 8% of his or her total earnings. Programs that go over these levels risk losing federal funding, which makes up 90% of revenue at for-profit institutions, according to the DOE.
The effects of the new rules could topple the for-profit industry, since roughly 1,400 programs serving 840,000 students would not pass the accountability standards today, according to the Department. About 99% of those students are at for-profit colleges.
Institutions that don't reach the standards have two choices: they can make immediate changes to avoid sanctions, or they face shutting down.
"These bad actors either change business, change what they're doing or they go out of business," Secretary Duncan told CNN.
Related: Veterans stranded after using GI Bill at defunct for-profit college
The administration has spent the last several years focusing on the for-profit education industry, because while only 11% of the total higher education population attends one of these institutions, they account for 44% of all federal student loan defaults. Corinthian Colleges, once a leading network of for-profit schools, filed for Chapter 11 bankruptcy protection and shut down its campuses across the country after years of lawsuits, regulations and fines over alleged predatory lending practices.
Other major institutions have been cutting back as a result of government regulations. University of Phoenix said Tuesday that it has fired 900 employees since September, and has shed about half of its students in the past five years. Over the last few months, Education Management Corp., DeVry Education Group and Career Education Corp. have announced they will sell or shut down campuses.
Critics say that this is the government putting the final nail in the coffin of for-profit education. But Secretary Duncan told CNN that this is an opportunity for those that adhere to the new guidelines to expand their businesses, since there will be less competition.
"The good actors are actually going to grow and flourish," he told CNN. "Where real skills are leading to better jobs, that's a great thing, and there will be more students for them to serve."