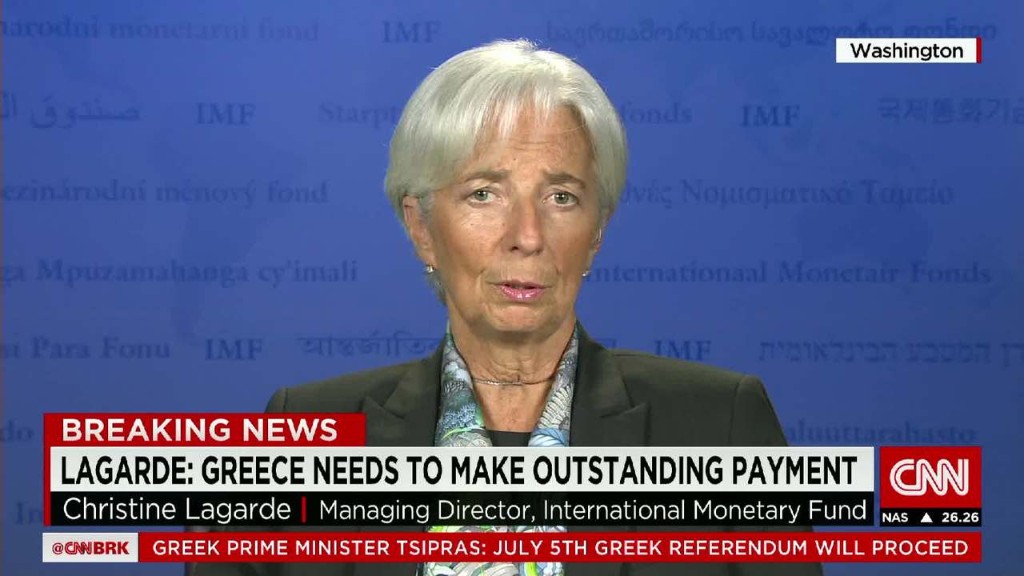 Greece's default was a non-event (almost) for investors. But markets won't be as calm if the country crashes out of the euro, so central bankers are getting ready.
The European Central Bank said Thursday it is now ready for the first time to buy the bonds of a number of companies in the eurozone, in addition to government debt, as part of its trillion-euro stimulus.
"The bazooka is ready," tweeted RBS economist Alberto Gallo.
The ECB has been pumping about 60 billion euros a month into European markets since March. It's trying to boost eurozone inflation and growth by making it even cheaper for governments and companies to borrow money.
But the program could also play a crucial role in protecting the rest of the eurozone if Greece has to dump the euro. No country has ever left the eurozone before, and markets would be in uncharted waters.
Latest developments in the Greek crisis
Eurozone countries such as Italy, Spain and Portugal saw their borrowing costs rise earlier this week in response to Greece's slide into financial chaos.
The list of companies added to the ECB program Thursday include three big Italian energy groups: ENEL (ENLAY), Snam (SNMRY) and Terna (TEZNY).
The ECB said it could also buy bonds issued by several infrastructure groups in Spain, Portugal, France and Austria.
It can add more names to the list at any time to reflect "risk management issues." The ECB was not immediately available to comment further.
Central banks outside the eurozone are also preparing for the worst.
Bank of England Governor Mark Carney said Wednesday that the U.K. was relatively well insulated from the Greek crisis, but the risks to financial stability were "acute" and could rise further.
"The UK authorities will continue to monitor developments closely and will take any actions required to safeguard financial stability in the United Kingdom," he said.
And Sweden pushed its official interest rates even deeper below zero -- to minus 0.35% -- Thursday, partly because of the events unfolding in Athens.
"The consequences of the situation in Greece for the euro area as a whole and for Sweden are difficult to judge," the Swedish central bank said.