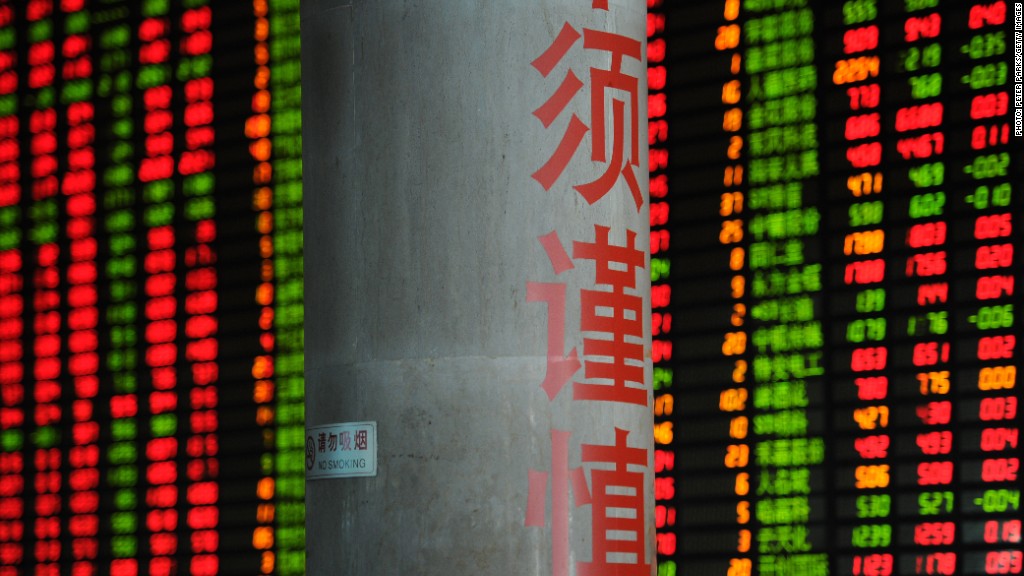 The turmoil in China's stock market is so bad that some companies are calling it quits.
Over 700 Chinese companies have halted trading to "self preserve," according to the state media. That means about a quarter of the companies listed on China's two big exchanges -- the Shanghai and Shenzhen -- are no longer trading.
China's stock markets are in trouble. The Shanghai Composite Index has fallen over 25% since mid-June. The Shenzhen, which has more tech companies and is often compared to America's Nasdaq Index, is down even more.
Related: Forget Greece. China is the real problem
The government has taken extraordinary steps to try to prevent further damage. The Chinese central bank made a surprise rate cut at the end of June. Then China's securities regulator stopped initial public offerings on the exchanges.
Over the weekend, over 20 of China's top brokerage firms publicly pledged to buy back stocks and funds in an effort to slow the downfall. The firms expect to spend at least 120 billion yuan (about $19.3 billion).
"The government is taking good care of the stock market," China's vice commerce minister said this week.
But investors clearly aren't convinced. China's stock market has been undergoing wild swings where it will open up as much as 5% and then end the day down that much or vice versa.
Both the Shanghai Composite and Shenzhen indexes fell again on Tuesday.
According to Bespoke Investment Group, China's stock markets have now lost $3.25 trillion. To put that in perspective, that's more than the size of France's entire stock market and about 60% of Japan's market.
While it's a top issue for China, few foreign investors have much exposure to these stock markets. The real concern for those outside China is an economic slowdown, not so much the stock market fluctuations.
"We reiterate that selling global risk assets on fears of Chinese 'contagion' driven purely by stock declines is a fool's errand," Bespoke wrote in a morning note.