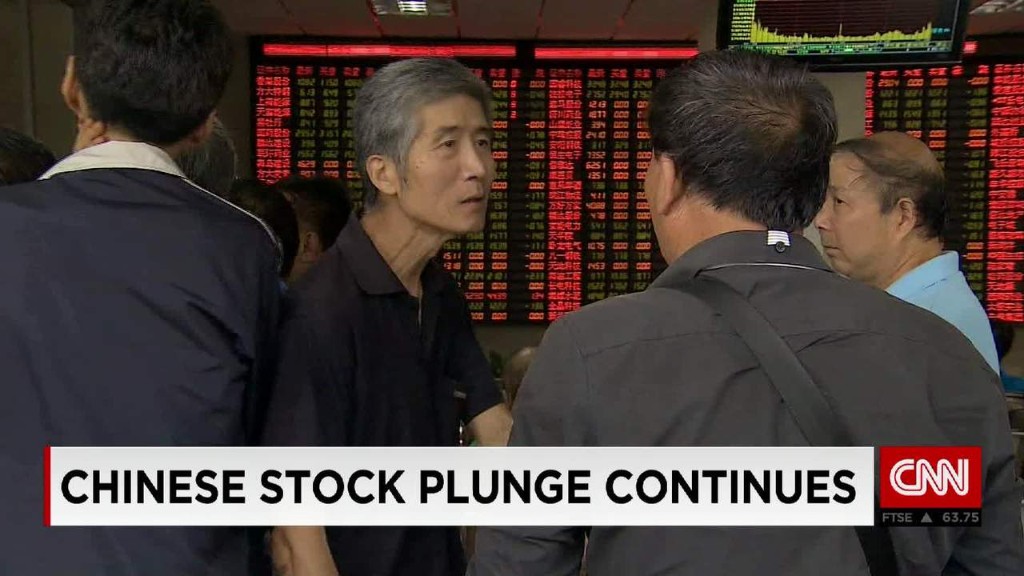 China stocks plunged again on Wednesday, even as regulators worked to contain a crisis that has wiped trillions of dollars off the country's stock markets.
The Shanghai Composite plunged 8% at the market open on Wednesday, and spent the entire day in negative territory before closing down 5.9%. The vast majority of stocks listed on the benchmark index shed 10%, the maximum limit shares are allowed to fall before being halted.
The smaller Shenzhen Composite lost 2.5%, while Hong Kong's Hang Seng dropped 5.8%.
"At the moment there is a mood of panic in the market and a large increase in irrational dumping of shares, causing a strain of liquidity in the stock market," China Securities Regulatory Commission said in statement.
Since June 12, the Shanghai Composite has lost an unnerving 32%. The Shenzhen market, which has more tech companies and is often compared to America's Nasdaq index, is down 41% over the same period.
The government is now doing everything it can to rescue the markets. The People's Bank of China has cut interest rates to a record low, brokerages have committed to buy billions worth of stocks, and regulators have announced a de-facto suspension of new IPOs.
The CSRC said Wednesday that it was actively working to relieve a liquidity crunch in the market.
But investors clearly aren't convinced by government efforts. China's stock market has been undergoing wild swings, sometimes opening with a spike of as much as 7%, before ending the day down by that much.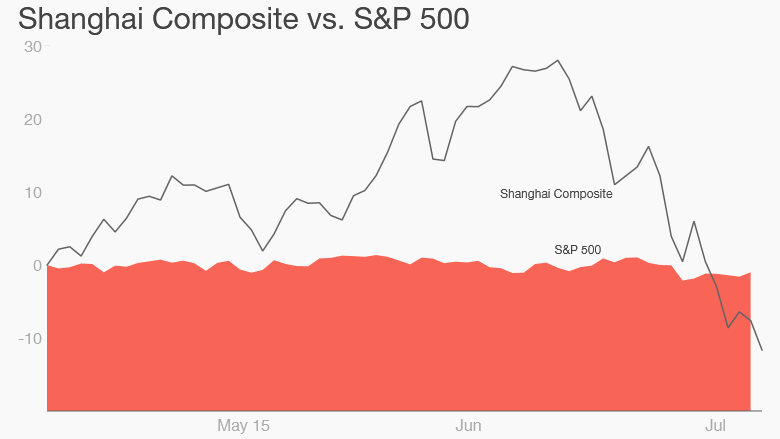 At least 1,430 of the 2,776 companies traded in China have elected to pull their shares as markets continue their crazy roller-coaster ride, according to state media. The number keeps ticking upward -- on Wednesday morning alone, hundreds of firms announced a halt in trading.
Related: Bargain hunting in the Chinese stock rubble
The most compelling theory why the stock bubble burst: Chinese economic growth is the weakest it's been since 2009. Share prices got way ahead of growth and company profits, which are actually lower than a year ago.
"China's stock market had become detached from the reality of China's own economy, and appallingly overvalued," Patrick Chovanec, managing director at Silvercrest Asset Management, said on Twitter. "This is gravity taking effect."
Related: China fears crash into gold, copper markets
According to Bespoke Investment Group, China's stock markets have now lost $3.25 trillion. To put that in perspective, that's more than the size of France's entire stock market and about 60% of Japan's market.
While the volatility is a major issue in China, few foreign investors have much exposure to these stock markets. The real concern for those outside China is an economic slowdown and wider impact from a fluctuating stock market, rather than the market swings themselves.