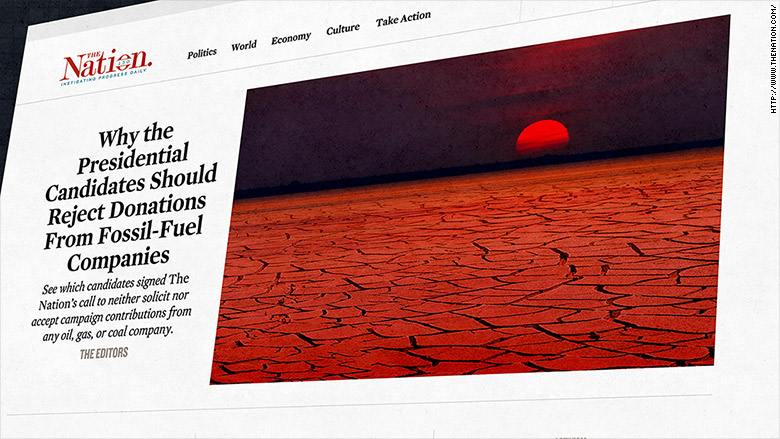 The Nation magazine, a bastion of liberal journalism, is joining the ranks of publications that are adding metered paywalls to their web sites.
The magazine announced the plan this week as it introduced a newly redesigned site timed to its 150th anniversary in print.
All articles will be free for a few months, then The Nation will implement the same sort of partly-free, partly-paid model that The New York Times pioneered several years ago. The more you read, the more likely you'll have to pay.
Time Inc., the owner of titles like Entertainment Weekly, People and Time, announced similar plans for its sites earlier this summer. The New Yorker, a Conde Nast publication, adopted the approach last year.
By and large, the jury is still out about the effectiveness of the model. But magazines and newspapers are determined to make more subscription revenue in an increasingly difficult advertising climate.
"We'll introduce a metered system that continues to put The Nation in front of new readers, but also asks our regular visitors to contribute to the cost of independent journalism," executive editor Richard Kim said in a letter to readers.
The Nation currently has an old-fashioned partial pay wall: the print edition is published online each Thursday, and more than half of the articles are initially kept behind a pay wall to entice people to sign up. The articles are gradually made available for free.
With a meter, all of the articles will be available right away, but heavy readers will have to pay.
For The Nation, there's a lot riding on the plan -- the magazine has lost money each year for most of the past 10 years.
Print and digital subscriptions make up about 60% of its revenue. Only 13% comes from advertising. Most of the rest is from donors, called Nation Builders, who chip in extra money after subscribing to the magazine.
The magazine says it has about 20,000 Nation Builders, and the average donation is $60. It is promoting this summer's entirely free period as a thank-you gesture to the donors.
The plan comes with one more twist explained by Kim: "Only subscribers will be able to leave comments -- and they'll be asked to identify themselves with a first and last name."
This is one solution to a problem that many publications face: how to manage comments sections that frequently become cesspools.
"We realize this will be controversial to some, but keeping the comments free of trolls and bots has taken an increasing amount of effort," Kim wrote. "We think it's only fair that commenters stand by what they write, and give something to the community in return."
Correction: a previous version of this story incorrectly described The Nation's profitability. This story has been revised with updated information.