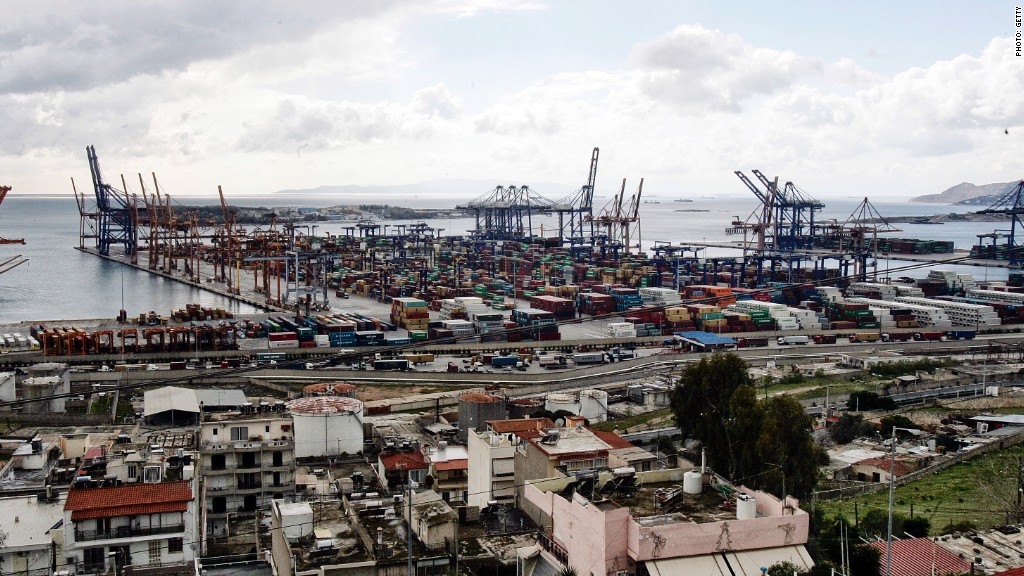 Shipping is one of the biggest industries in Greece -- and this key business has held up surprisingly well despite fears of a Grexit and more economic hardship ahead.
Many Greek shipping companies trade in the United States. Several of the stocks, such as Diana Shipping (DSX), Danaos (DAC), Costamare (CMRE), Navios Maritime (NMM) and StealthGas (GASS), are actually up this year.
Why is this the case?
Greek boats ... American dollars. To start, most of the big shipping companies just have headquarters in Athens or other cities on the Greek islands. But they do their business in U.S. dollars, not euros.
So the possible return of the Greek drachma won't be a major issue.
Greece in crisis: CNNMoney's comprehensive coverage
Another reason the shippers are doing well?
The U.S. is still buying stuff. Demand for consumer products, commodities and other things that boats ship on the high seas has been relatively solid around the world. The Greek shippers don't have that much exposure to Greek consumers.
The U.S. economy is on the mend. Some of the Greek shippers even benefited from the West Coast port slowdown this year.
Danaos CEO John Coustas said in the company's first quarter earnings release that there was a "significant" increase in shipping rates for vessels going through the Panama Canal as more Asian companies sought to ship goods to the East Coast of the U.S.
Higher taxes? Don't bet on it. One potential problem for the shippers? Greece's government may look to raise taxes on the shipping companies as a way to help stop the economic bleeding.
But industry experts are skeptical that such a plan could work. Stifel analyst Benjamin Nolan wrote in a recent report that most Greek ships fly the flag of other nations.
Related: Greece requests third bailout
"While Greek owned vessels make up the largest constituency of any nationality, less than 2% of the global fleet is Greek flagged, meaning any attempt to increase tonnage taxes would likely have a negligible impact," Nolan wrote.
Keep an eye on China. Still, it may not be smooth sailing (sorry) for the Greek shippers in the coming months. The biggest problem the industry faces is China.
If the current market panic in China leads to a full blown crash and much sharper economic slowdown, that is not good news.
China is both a big shipper of consumer goods and a voracious acquirer of oil, iron and other commodities that get shipped to it.
"China scares me. We can all agree that China is slowing. If demand for commodities falls further, that's going to put pressure on the shipping stocks," said Kevin Sterling, an analyst with BB&T Capital Markets.
Sterling said it's still too soon to say how bad things might get in China. But make no mistake. The fate of the Greek shippers has more to do with Beijing than Brussels.