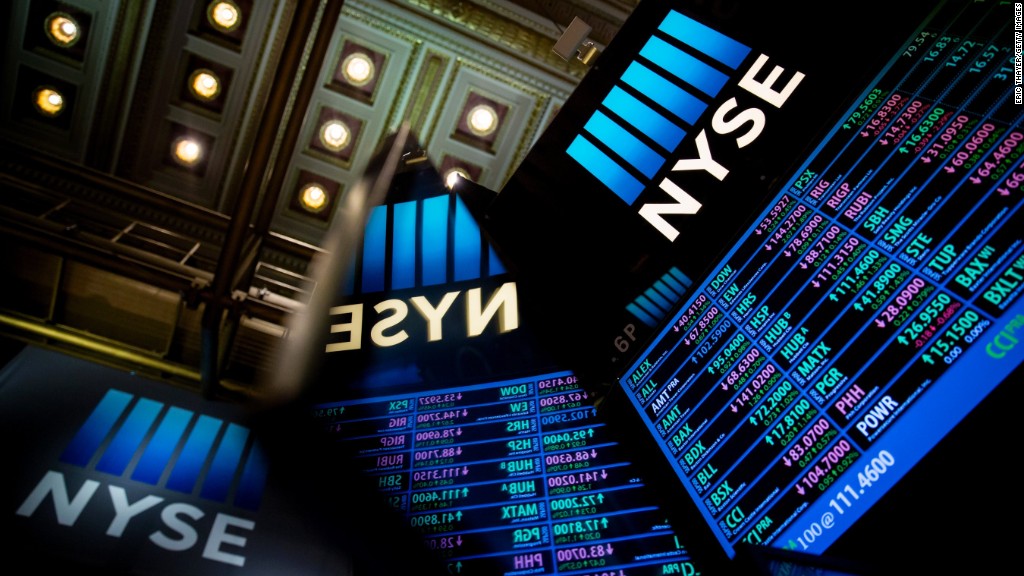 The American stock market is no stranger to glitches.
A technical glitch halted trading at the iconic New York Stock Exchange on Wednesday for more than two hours. NYSE said the stoppage was being caused by internal problems, not a cyber attack.
Glitches can be expected given how complicated the gigantic U.S. stock market is. Trading is spread out across many different exchanges, creating a highly-fragmented system that's subject to technology problems.
"No system is perfect -- nor will it ever be. Technology glitches are a function of modern life. They're not going to go away," said James Angel, a professor at Georgetown University who has testified before Congress about the design of financial markets.
Related: NYSE suspends trading
Nasdaq had its own problems: There have been a number of problems in recent years that have created headaches for U.S. investors. Wednesday's problems represent the biggest glitch since 2013, when technical problems caused a three-hour halt at the Nasdaq.
That incident, dubbed the Flash Freeze, was actually more serious because it caused trading on all Nasdaq-listed stocks to stop trading altogether.
The NYSE-listed stocks still traded on Wednesday on other exchanges like BATS, Nasdaq and even NYSE's own Arca venue.
Related: What the heck is happening with NYSE? CNNMoney answers your questions
Remember the Flash Crash? The scariest recent glitch impacting the stock market occurred in May 2010 during the Flash Crash. Somewhat ironically, that incident also occurred during a time of deep concern about overseas developments, particularly a crisis in Greece.
During the Flash Crash, the S&P 500 mysteriously declined nearly 9% -- much of that free fall in mere minutes -- before rebounding dramatically. Procter & Gamble (PG) at one point plummeted 37%.
There remains much debate over what exactly caused the Flash Crash. Angel believes it was a "chaotic partial network outage."
Earlier this year U.S. prosecutors charged a London trader with market manipulation that helped lead to the market plunge.
Related: How cash crunch brought Greeks to their knees
Facebook, BATS IPOs tarred: Other recent market hiccups took place on a more narrow level with just a certain stock.
Facebook's (FB) debut as a public company was marred by glitches at Nasdaq that left investors unclear of what price they acquired shares at for hours. The Securities and Exchange Commission fined Nasdaq (NDAQ) $10 million over the mishandled initial public offering.
There was also the failed January 2013 IPO of BATS. Embarrassingly, the rival of NYSE was forced to abandon its own debut as a public company because of technical problems.
Don't panic: At the end of the day, investors should draw two key lessons from these market problems.
First, technical glitches will keep occurring. It's up to regulators and exchanges to minimize their damage.
Second, don't overreact and panic over them. Investors who dumped stocks during the Flash Crash definitely regret it as the S&P 500 has nearly doubled since then.