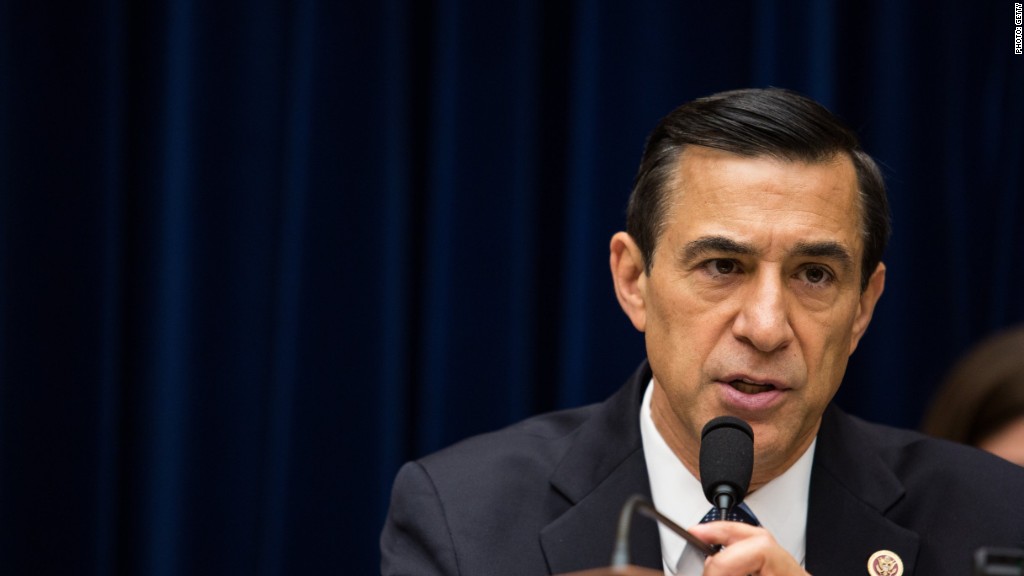 Here's the good news: Global poverty has fallen by half over the past decade.
But here's the bad news: 71% of the world's population remain low-income or poor, living off $10 or less a day, according to a new Pew Research Center report that looked at changes in income for 111 countries between 2001 and 2011.
Unlike in America, where the middle class has been on the rocks in recent years, some researchers say that strong economic growth in developing countries has helped shrink poverty and expand the middle class globally.
But Pew disagrees, calling a global middle class more promise than reality. True, the global middle class nearly doubled over the decade to 13% in 2011, but it still represents a small fraction of the world's population.
"The world has made tremendous strides in pulling people out of poverty, but most of the growth has been only one step up the economic ladder," said Rakesh Kochhar, associate director at Pew. People "are potentially one financial shock away from slipping back into poverty."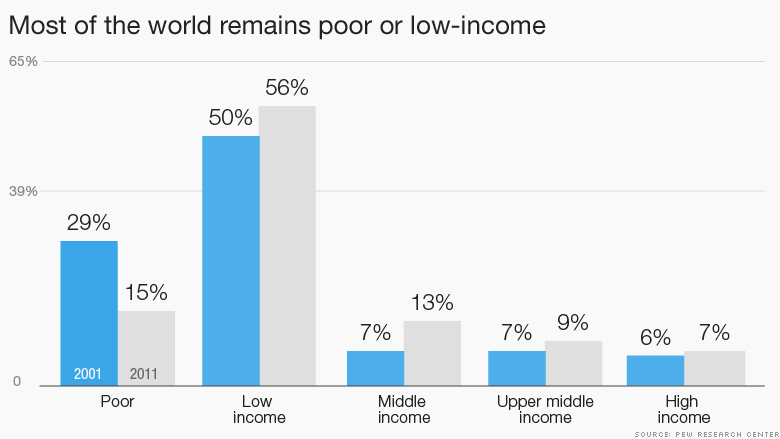 India, for instance, has seen a steep drop in its poverty rate, which fell to 20% in 2011, from 35% a decade earlier. But most of those folks shifted to the low-income ranks, while the middle class has barely budged.
In Africa, the poverty rate fell to 39% from 49%, but nearly all the growth was among the low income.
Pew defines the poor as living on less than $2 a day for a four-person family, while low-income households live on between $2 and $10 daily.
The middle class, meanwhile, lives on between $10 and $20. While this is low by American standards, there's a growing consensus among economists that this threshold insulates people from falling back into poverty, according to Pew. Globally, the majority of people live on about $3 a day, Kochhar said.
China is one country that bucks the trend. Unlike elsewhere in the world, the rapid economic expansion in China has expanded the ranks of the middle class, boosting it to 18% of the nation's population in 2011, up from 3% a decade earlier.
Meanwhile, its share of poor people plummeted to 12%, down from 41%. Still, two-thirds of the population remain low-income.
Some countries in Eastern Europe, including Belarus and Romania, and in South America, such as Argentina and Brazil, have also seen their middle classes grow.
When it comes to the upper middle income, most live in Europe and North America. But that's also been changing. The share of upper-middle income folks living in these areas dropped to 63% in 2011, down from 76% a decade earlier. On the rise are China, where the ranks expanded to 10% from 1%, and South America, which inched up to 10% from 8%.
The rich, however, have generally stayed put in Europe and North America, where 87% of them reside. They live on $50 or more a day.
The United States is not at the top of the list. Some 56% of Americans are in this category, but seven European countries and Canada have larger shares of wealthy citizens.