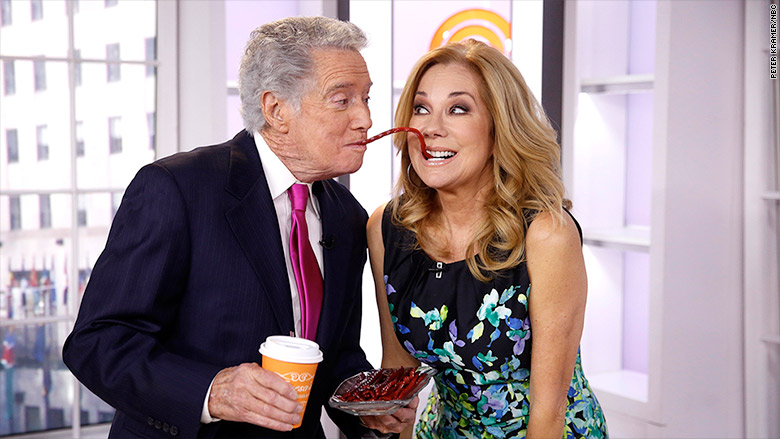 Regis and Kathie Lee are back together again, and this time on the Today show.
NBC announced on Thursday that Philbin will be joining Kathie Lee Gifford and Hoda Kotb as a contributor for the fourth hour of the network's popular morning show.
This puts Philbin back on morning TV with Gifford who was his co-host on the ABC talk show "Live! With Regis and Kathie Lee" for 15 years from 1985 to 2000.
"Regis brings his legendary charm and humor each time he visits Today," Tammy Filler, the co-executive producer of "Today" said in a statement. "His energy is infectious, and when Regis is around, you never know what will happen."
Philbin, 83, has made many appearances already on the Today show in the recent months with one of the most notable moments coming when he had a starring role in "Today The Musical," the morning show's sing along that took place in December.
Philbin has had a legendary stature as a popular and award-winning host in broadcasting for decades.
Related: Morning show ratings war
This includes hosting ABC's "Who Wants to Be a Millionaire," "America's Got Talent," and "Live! with Regis and Kelly" with Kelly Ripa who eventually replaced Gifford. He retired from "Live!" in 2011.
He has also guest starred in many TV shows and films which -- along with his love of Notre Dame football and classic demeanor -- has turned him into a pop culture icon.