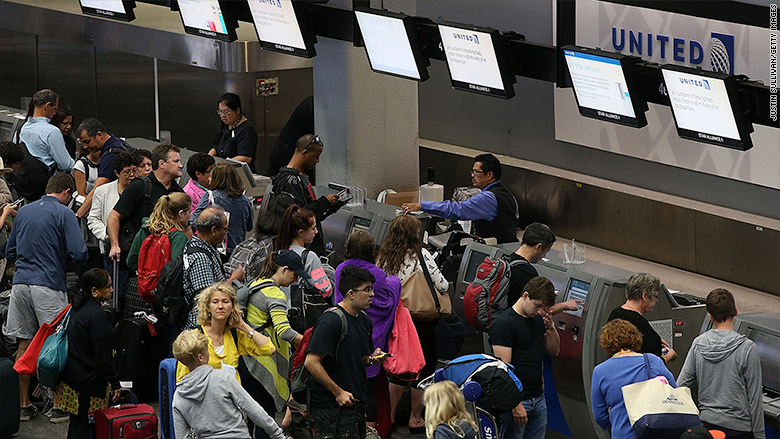 United Airlines sent apology letters to customers Thursday for "falling short" when a systems glitch grounded its flights worldwide.
"We recognize that we didn't meet your expectations and this did not make for an overall positive experience," the email from United Airlines VP of customers Sandra Pineau-Boddison reads.
The apology was sent to the thousands of fliers who were scheduled to board any United flight Wednesday, company spokesperson Jennifer Dohm told CNNMoney.
"We know you count on us to provide you with a hassle-free and reliable journey when you choose to fly with us, and we take that very seriously. We are sorry for falling short yesterday," Pineau-Boddison's letter said.
The airline is flying again, but a company memo sent Wednesday night and obtained by CNN warned employees that there could be "lingering issues" as the systems return to full working order. It said, "employees may encounter some problems with a few systems."
Dohm told CNNMoney that all of Wednesday's computer issues were completely resolved and there were "no residual effects from yesterday."
Related: Tech fail! Explaining Wednesday's big computer errors
Connectivity problems with its computer system grounded all United flights for more than an hour Wednesday morning, and caused travel problems for passengers whose flights were delayed and canceled as well as for those who missed connections.
A different company spokesperson said the glitch caused about 1,100 delays and 60 flight cancellations.
Those numbers are slightly off from FlightStats' data. The flight tracking website showed United had 1,600 delays and 48 cancellations worldwide on Wednesday.
The airline said that it experienced some delays Thursday, but that they were "mostly" due to weather.
Shares of United Continental (UAL), which owns United, traded higher Thursday after losing nearly 3% Wednesday.
Correction: An earlier version of this story said that United was still experiencing problems and that it had canceled flights Thursday morning due to system problems.