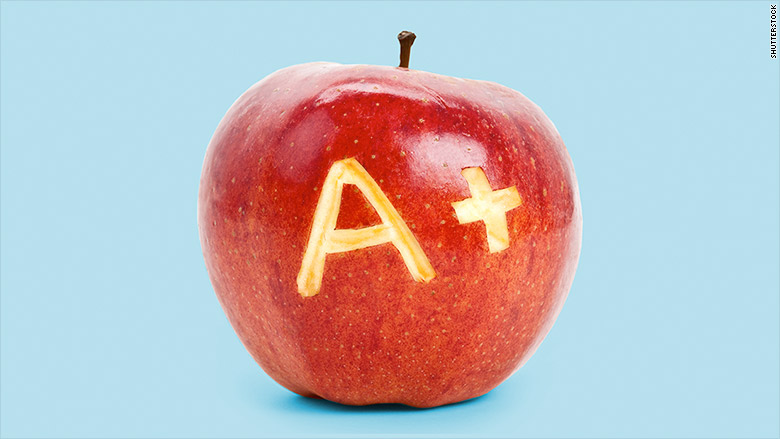 Investors better brace for some ugly grades when Corporate America issues quarterly report cards.
Hurt by depressed oil prices and the stronger U.S. dollar, many companies are expected to reveal shrinking profits this earnings season.
However, just like in school, there are sure to be a handful of smartypants companies that will make investors proud with straight A's. Identifying which stocks will enjoy a post-earnings bounce could be quite lucrative.
Here are six stocks that Morgan Stanley is confident will ace their corporate report cards this earnings season.
1) Amazon.com
Price target: $520
Current price: $455
Amazon.com (AMZN) has two big things going for it: e-commerce strength and its increasingly popular cloud business.
Morgan Stanley believes Wall Street is underestimating both of these drivers, especially how the e-commerce business is seriously boosting Amazon's bottom line thanks to higher profits per customer and falling fulfillment costs per unit.
That's why Morgan Stanley is betting Amazon's shares will soon climb to $520, or nearly 15% above their current levels.
Related: More bad news for stocks: Earnings may stink
2) Bank of America
Price target: $20
Current price: $17
Bank of America (BAC) investors should be loudly cheering Fed chief Janet Yellen's latest prediction for an interest rate hike later this year. That's because BofA's business is heavily skewed towards consumers, giving it more to gain than any other big bank from higher interest rates.
For all banks, higher rates translate to fatter net interest income. That's bank jargon for the difference between the interest banks pay out on deposits and interest earned on assets like mortgages and loans.
Morgan Stanley believes those benefits will begin to emerge when BofA reports results on Wednesday. Further gains for BofA shares could come as a rate hike becomes more likely.
Related: These are the 4 keys to earnings season
3) Biogen
Price target: $520
Current price: $392
Get ready for a $100 spike in Biogen (BIIB) shares. At least that's what Morgan Stanley thinks.
The firm has a base-case price target of $520 on Biogen, implying a 33% surge from today's levels. In its bull case, Morgan Stanley believes Biogen could skyrocket to $705, or nearly 80% above current prices.
The optimism about Biogen stems from the biotech company's promising pipeline of upcoming drugs. Morgan Stanley is especially bullish on drugs being developed to treat Alzheimer's, strokes and secondary-progressive multiple sclerosis.
4) Carlyle Group
Price target: $32
Current price: $27.75
Carlyle Group (CG) is cashing in as more and more of the companies it invested in go public or are acquired.
The private-equity firm completed 13 portfolio exits in the second quarter, boosting its bottom line significantly, Morgan Stanley estimates. The successful transactions should allow Carlyle to report higher earnings, boost its dividend and continue its rapid fundraising pace.
Related: Stock market crashes: How does China's stack up?
5) Caterpillar
Price target: $75
Current price: $84
Life may not be as bad for Caterpillar (CAT) as investors believe. Thanks to higher construction margins, Morgan Stanley is betting the construction equipment maker will beat Wall Street's lowered expectations by 6% when it reports results on July 23.
Moreover, the firm believes Caterpillar could actually raise its full-year guidance significantly due to the stabilization in oil prices and more robust recovery in non-residential construction.
However, it's worth noting that Morgan Stanley's base case price target on Caterpillar is only $75, which is actually well below the current price of $83.75. The firm's bull case price target is $111. For that to happen, Morgan Stanley thinks Caterpillar needs to improve its construction results and minimize declines in its mining business.
6) XPO Logistics
Price target: $60
Current: $46
XPO Logistics (XPO) is not a stock for the faint of heart. The transportation logistics company has a limited operating history and aggressive growth plans that make it somewhat risky.
However, Morgan Stanley thinks XPO's August 5 earnings report will show continued growth in the company's freight brokerage and contract logistics business. The key will be XPO giving greater details on its long-term guidance, including 2018 projections.
"The stock is not without risk, but if XPO's business plan works, the upside to the stock is greater than at most names we cover," Morgan Stanley wrote.
Related: Oil prices tumble as Iran deal nears
Bonus: Here's one stock that might just flunk earnings season.
Las Vegas Sands
Price target: $46
Current: $57.50
Second-quarter numbers from Las Vegas Sands (LVS) could be so bad that the casino company is forced to cut its dividend. Morgan Stanley believes there's a 20% chance that will happen as the gaming giant grapples with a big slowdown in Macau, the gambling mecca being hurt by China's anti-corruption drive.
Watch out if Las Vegas Sands does cut its dividend. Wynn (WYNN) shares crumbled 17% when the rival casino company took an axe to its dividend last quarter.