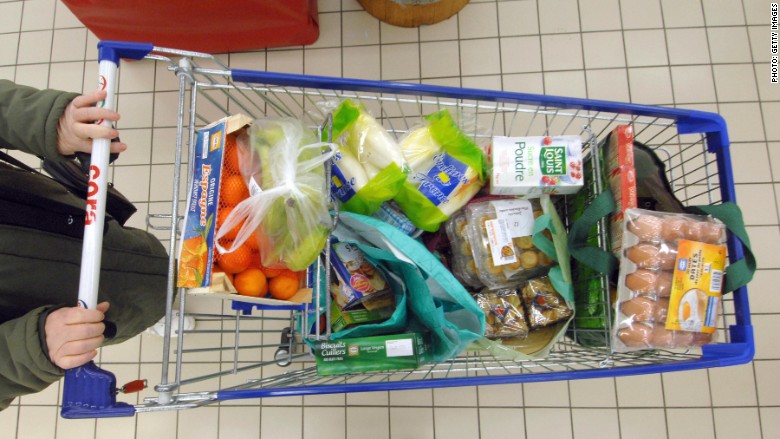 American spenders didn't show up in June. And they spent even less than we thought in spring.
U.S. retail sales fell 0.3% in June compared to May. That's a red flag because economists had expected consumers to open up their wallets after a cold shaky winter.
Retail sales for April and May were also revised down. And buyers didn't turn up for anything -- sales of cars, furniture, groceries were down in June.
"For June so far, it looks like consumers took a step back," says Jennifer Lee, senior economist at BMO Capital Markets.
Related: Americans are savers now. It's a problem for the economy
Although retail sales are just one piece of the economy's puzzle, it's important to remember that the majority of America's economic growth comes from consumer spending.
America's economy contracted a bit in first three months of this year.
Experts had anticipated that economic growth would pick up in the warmer months. But June's retail sales could now water down those expectations.
The hope was that 2015 would be deja vu from last year: a slow winter and then a consumer comeback in the spring and summer. That's not happening yet.
Consider this: retail sales were negative or flat in just two of the first six months last year. This year, so far, sales have been negative or flat in four out of six months.
Related: The June jobs report: good but not great, experts say
Low gas prices were supposed to spark more spending across the country. Instead, Americans are saving more now than a year ago.
Bad or cold weather isn't an issue anymore either. The setback is a little puzzling.
"As it's June, we certainly can't use weather as an excuse but I'm trying to find other reasons for the weakness," says Peter Boockvar, chief market analyst at The Lindsey Group in Virginia.
The big picture: Americans of all stripes are waiting to see if the Federal Reserve will raise its key interest rate this year.
It would be a huge step for the economy, and it could shake up stock markets. Most economists expect the Fed to raise rates in September for the first time in almost a decade.
But the Fed's committee isn't confident enough yet for the rate hike. The members want to see how the summer fares.
The problem is that the economy is running out of chances before the Fed's September meeting. There's only 12 major economic announcements coming between now and the meeting. In the land of economics, that's not much.
June's retail sales has struck out. The question now is: Will America's economy find a firm footing before September?