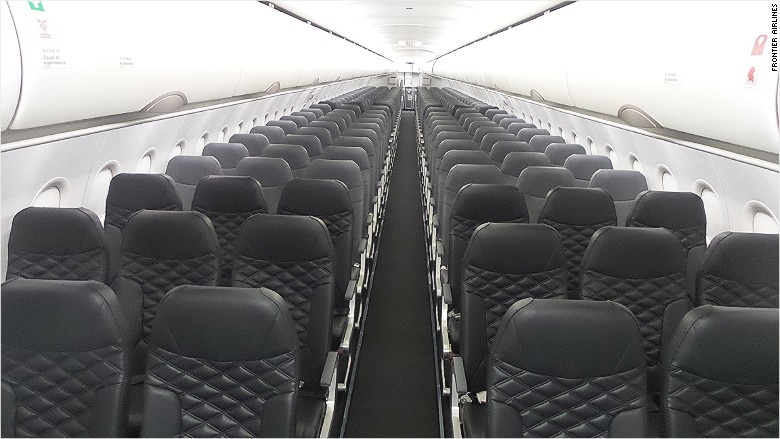 Passengers in the middle seat are getting a little more wiggle room on some Frontier Airlines flights.
The low-cost carrier is adding an extra inch to the middle seats on its Airbus A320 and A319 planes, bringing the width to 19.3 inches. Window and aisle seats on the planes are 18.1-inches wide.
"You can still be relatively comfortable and pay low fares," said Jim Faulkner, spokesperson for Frontier Airlines.
The bigger seats, which were first reported by Conde Naste Traveler, have been installed on Frontier's Airbus A320 planes and are currently being installed on the A319s.
Related: These are the 10 gadgets you need when travel
Retro-fitted A320s are in service now with the larger middle seats, and the company plans to have the rest of the planes updated by the end of the year.
While the middle seats are getting wider, all of the seats are getting thinner and are "pre-reclined," allowing the airline to add up to 12 new seats on the planes.
Faulkner said the while the seats have sturdy padding, fliers might need a little extra time to get used to the new feel. "They will become more comfortable when broken in, just like a new car seat, couch, or new favorite chair; it takes a while to break it in, he said. "There's definitely a break-in process with the new seat."
Seat pitch, which is the distance from one point on a seat to the same point on the seat directly in front of it, is also shrinking -- to 28 inches.
"But now that we have thinner seats, there is more space...the older measurement was against thicker seats, these are thinner," said Faulkner.
Passengers who want more space can still purchase Stretch Seating tickets that offer an additional five to seven inches of legroom at an added cost.