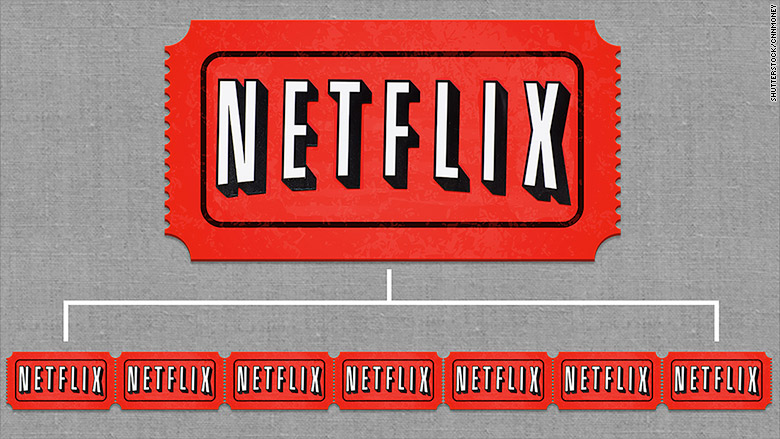 Netflix investors, don't freak. Your shares are trading at just a fraction of what they were worth yesterday.
But that doesn't mean your favorite investment crumbled overnight.
Here's why: Netflix (NFLX) just executed a seven-for-one stock split. The move is aimed at making the red-hot stock more affordable for mom-and-pop investors. It also means that Netflix shareholders received seven shares for each one they owned.
So Netflix is currently trading at just under $100, or about one-seventh of its Tuesday closing price. The split took effect after the stock market closed on Tuesday.
It's important to understand that the split doesn't change that much for current Netflix shareholders. They just own more shares at a cheaper price. The value of their investment -- and Netflix's total market value -- is the same.
Frank Underwood, the Machiavellian main character in Netflix blockbuster House of Cards, would approve of the savvy move by Netflix. Stock splits are a sign that a company's stock price has appreciated enough where it may scare away retail investors. Netflix shares more than doubled this year, crushing the Nasdaq's 8% gain.
Thanks to those big gains, Netflix was one of just four S&P 500 companies with a share price above $500 before the stock split. The remaining high-flyers are Priceline (PCLN), Google (GOOGL) and biotech star Regeneron (REGN).
Apple (AAPL) carried out a seven-for-one split of its own in 2014 after its stock skyrocketed. The iSplit successfully fueled enthusiasm among Apple fans to take advantage of the lower price.
Related: Twitter shares soar on phony Bloomberg story
Netflix is still pricey: But will it work for Netflix? Clues to that question should emerge after the closing bell on Wednesday. That's when Netflix hits the earnings stage. Don't expect an easy audience though.
That's because despite making its shares cheaper, Netflix still remains extremely expensive based on the metrics that truly matter. Netflix is trading at a ridiculous 226 times its projected 2016 earnings. That price-to-earnings ratio is very high. By comparison, Facebook (FB) is trading at "only" 34 times its expected 2016 earnings. Even Fitbit's (FIT) P/E ratio is way less than Netflix at 57.
Related: Do you need to be a 'Daredevil' to buy Netflix stock?
Will Netflix 'deliver' an earnings dud? All of this means Netflix management needs to live up to its well-deserved reputation for under-promising and over-delivering on earnings.
"With such an incredibly high multiple, the stock is extremely vulnerable to a large decline if Netflix does not deliver in their upcoming report," Estimize wrote in a report this week.
Netflix reported blockbuster first-quarter results in April. Its earnings crushed Wall Street's expectations by 28%, sending its stock soaring to new heights.
This time around, analysts believe Netflix will post earnings of 4 cents a share -- a big decline from a year ago due to higher costs. Estimize, which crowd sources estimates among a broader group of observers, is predicting stronger earnings north of 6 cents a share.
Besides the headline numbers, the key will be Netflix revealing new evidence that the streaming service's rapid international expansion is on track. That's very important because the larger overseas subscriber base helps offset Netflix's expensive licensing fees.