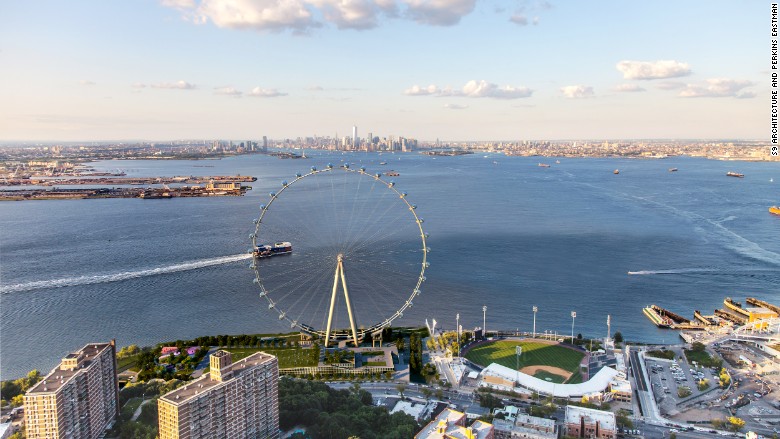 New York is building one of the biggest Ferris wheels in the world, and it's partly funded by Chinese investors hoping for U.S. green cards.
The wheel, under construction on Staten Island, will stand 630 feet high when it's completed in two years, according to Travis Noyes, chief marketing officer at New York Wheel, the firm developing it. Its 36 pods will hold about 40 people each, offering panoramic views of the New York skyline during a slow rotation.
The idea is to capitalize on the two million-plus tourists who ride the Staten Island ferry each year past the Statue of Liberty, but never get off and spend money on the island itself. The wheel will cost $35 per person to ride and is just one attraction at the site, which will also include an outlet mall, hotel and restaurants.
But it's expensive to build -- over $500 million for the wheel alone. To help finance construction, its developers have turned to foreign investors.
The U.S. government runs a program that grants green cards to foreigners in exchange for job-creating investments in the United States. Known as the investor immigrant visa -- or EB-5 -- it requires a $500,000 investment in a high unemployment area (or $1 million in a low unemployment area). Each investment must also create 10 jobs.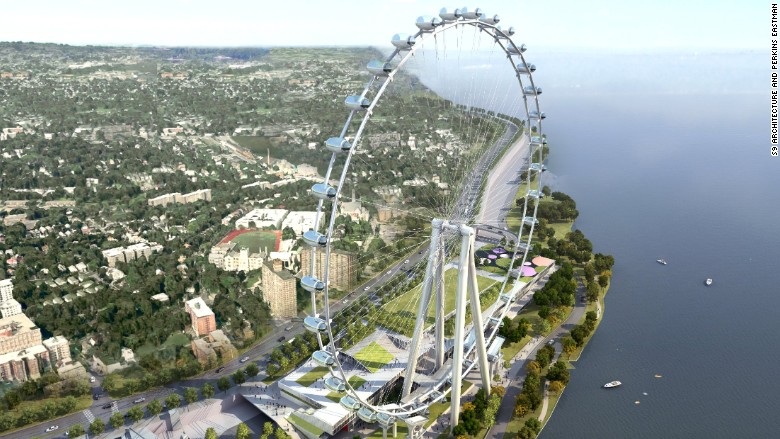 The program has grown in popularity over the last few years as it's become more widely known and as wealth increases in the developing world. Over 10,000 visas were issued in 2014, up from under 800 in 2007, according to the State Department.
So far, New York Wheel has raised over $170 million from 300 Chinese investors. The project is slated to employ 400 people on a permanent basis and create roughly 5,000 construction and indirect jobs in an area where the poverty rate exceeds 20%. New York Wheel has raised the rest of its funding from a variety of debt and equity investors. (Technically, it's an "observation wheel," not a Ferris wheel, as the cars are not suspended from the frame.)
Related: Invest in America, get a green card
The temporary immigrant visas are expected to be issued to the Chinese investors and their families within the year, said Noyes. After two years -- and if all the required jobs are created -- the families will receive permanent green cards, after which they will be eligible for U.S. citizenship. In addition to the visas, the Chinese will receive 2.75% interest on their money with a six-year payback period -- provided the project is a success.
It makes sense that most of the immigrant investors in the wheel are Chinese -- most of the participants in the immigrant investor visa program are Chinese. Plus, Chinese make up the third largest group of foreign tourists to New York, behind the British and Brazilians.