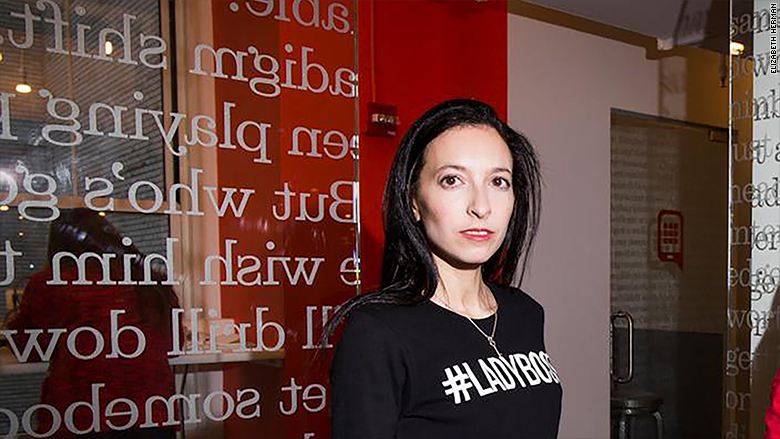 Does he want to fund me -- or date me?
It's a question that has made some entrepreneurs reject funding offers and others do things like wear a fake wedding ring to stave off dinner dates.
For Elissa Shevinsky, it's prompted her to publicly come out as a lesbian.
"I want to take my personal life off the table -- ironically, by speaking more about my dating life," said Shevinsky, 36.
Shevinsky said her gender and supposed heterosexuality has always added a layer of complexity to her career.
She has been coding since 1997 and has been working in the tech industry since 1999. She was an early employee at Everyday Health (EVDY), which went public last year. And she's been running her own startups for the last four years.
Shevinsky has always been intensely private about her personal life -- until recently. She said she's been in and out of the closet since she was a teenager (she was even married to a man in her late 20s) but only publicly stated it recently.
She was speaking at INSTED, an alternative tech conference, in May when she was asked about her solutions for sexual harassment in tech.
Her response? Coming out as a lesbian.
"I realize it's not a scalable solution for all women," she said.
She thinks -- and hopes -- that this will prevent sexual tension from distracting from her credibility as an entrepreneur. The timing is especially important as she prepares to raise a seed round for her latest startup, a privacy firm called JeKuDo.
"I've seen too many friends lose opportunities because men wanted to date them," she said.
She also experienced it when she was first starting out.
"I got hit on all the time. I was trying to talk business and they were trying to date me. I've gotten very good at navigating, but women shouldn't have to."
By all accounts, Shevinsky said she's been lucky. She's used to being one of the guys and says for the most part, her experience in tech has been positive. But she became particularly aware of sexism in tech while working on her new book, Lean Out: The Struggle for Gender Equality in Tech and Start-up Culture.
It's a compilation of first-person essays by women and transgender people in tech that portray a broad range of experiences in the industry. It includes everything from stories of sexual harassment by prominent VCs, to what it's like to be a person of color at Google, to a transgender person's account of being both a man and a woman in the tech world.
Shevinsky said working on the book inspired her to be more transparent about her own life.
"The last thing I would want is for people to perceive something untrue about me and then have that impact my work," she said. "I'm willing to take on whatever comes with having that LGBTQ label -- I think that's an important fight anyway and I'm happy to be part of it."