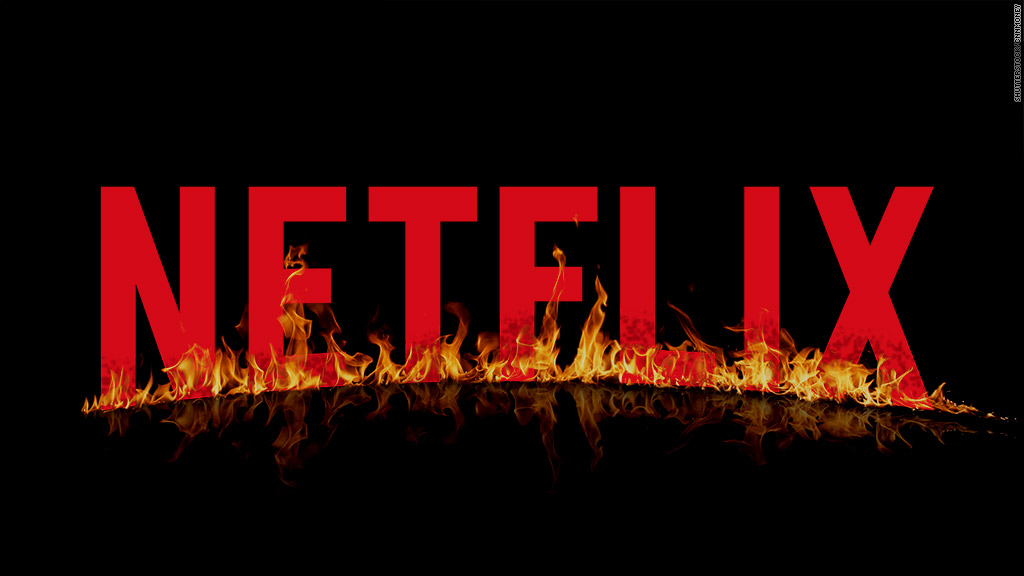 If you could hop in a time machine and go back to 2010, betting the house on Netflix would be a very smart move.
Back then Netflix (NFLX) was a DVD-first company that had already enjoyed an explosion in its stock price. It wasn't clear that consumers would fall in love with its new streaming service. Nor was it a given that Netflix would be able to keep up with rapidly-increasing costs to secure the rights to TV shows and movies consumers actually want to watch.
Five years later, Netflix is an entertainment juggernaut that has transformed the media landscape and viewing habits of millions of Americans. Thanks in part to powerful original content like House of Cards and Orange is the New Black, this week Netflix revealed it added 3.3 million subscribers during the second quarter, for an impressive total of 65.5 million.
That rapid growth trajectory is why its stock price continues to explode -- and why it needed to split its stock seven times. Netflix spiked another 15% on Thursday to a new all-time high. The company's shares have skyrocketed 574% over the past five years, making them one of the best performers in the S&P 500 in that period.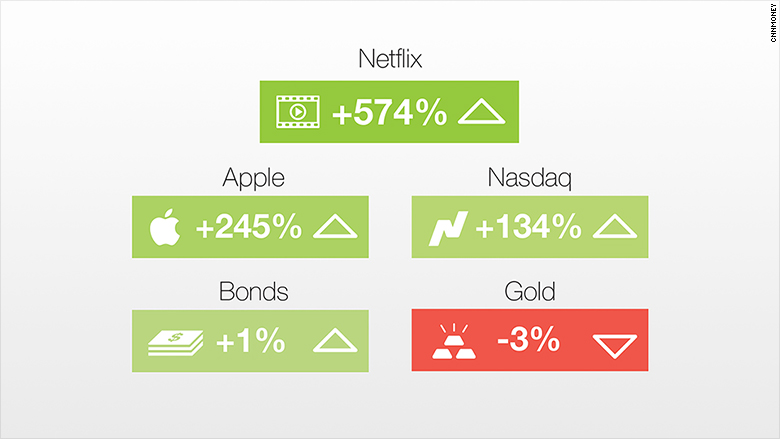 Related: Find stocks expensive? Bonds are pricier
If you invested $10,000 in Netflix in July 2010 and didn't sell a share, you'd have $60,000 in your account today. Even House of Cards billionaire Raymond Tusk would be impressed by that return on investment.
"Netflix continues a steady -- if not accelerating -- march towards becoming the most powerful global distributor of media content," Nomura Securities analyst Anthony DiClemente wrote in a research report on Thursday.
Netflix crushes Apple, traditional media: Netflix is crushing other popular bets from 2010. Apple (AAPL) seemed like a safer investment back then for those who wanted to invest in a consumer-technology company. But Netflix has more than doubled Apple's very-impressive 245% stock surge over the past five years.
The same is true for traditional media players. Netflix has more than doubled Disney (DIS) and Time Warner's (TWX) five-year gains of 252% and 202%, respectively. (Time Warner is the owner of CNNMoney.) Sumner Redstone's Viacom (VIAB) is up just 84% over that span.
Related: Austerity on Wall Street: Banker pay is down
A bet on the Nasdaq was a smart one in 2010. The Nasdaq's 134% five-year advance blows away the S&P 500 and Dow, but it's well behind Netflix's.
Gold, which was a very hot investment in 2010, is actually down 3% since then. Bonds have been almost as bad, up just 1%, as measured by the iShares Barclays Aggregate Bond Fund.
Can Netflix stay hot? The bad news is that Netflix's huge stock surge -- it's the best performer in the S&P 500 this year -- has raised expectations big time. It's currently trading at 308 times its projected 2016 earnings. That's very expensive even in today's pricey stock market.
The good news is that Wall Street doesn't think Netflix's wild ride is over.
S&P Capital IQ boosted its price target on the stock by $21 to $128 on Thursday. The firm pointed to Netflix's "accelerating" subscriber growth, especially overseas where it added 2.4 million users last quarter alone.
That's critical because those new customers are helping Netflix absorb its escalating content costs. Netflix is spending large sums of money to land big-name Hollywood stars, including Brad Pitt and Adam Sandler.
The key to Netflix's next five years of success may be its ability to navigate expansion into new markets, including planned rollouts later this year in Japan, Italy and Spain.