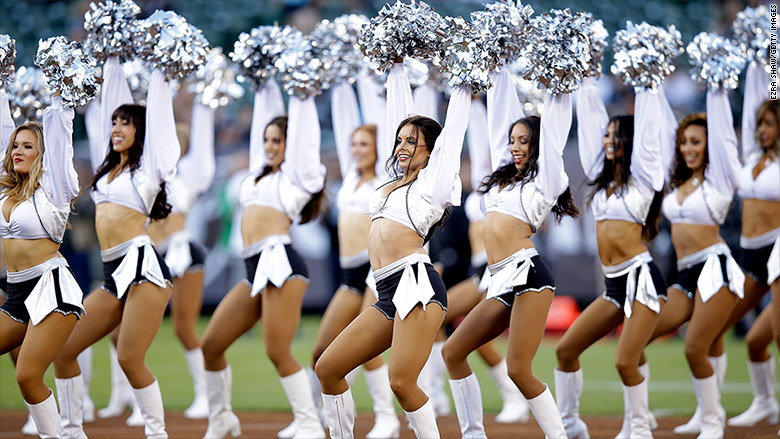 Cheerleaders in California have scored a major victory off of the field.
A new law just signed by Gov. Jerry Brown requires professional sports teams to treat their cheerleaders like employees, paying them at least minimum wage and compensating them for all practices and appearances.
The cheerleaders were previously classified as independent contractors, which meant they weren't covered by state labor laws.
The bill comes after a lawsuit filed last year by members of the Oakland Raiders' cheerleader squad, the Raiderettes, charged that they were paid less than $5 an hour for their appearances at games, rehearsals and public appearances they were required to attend. They were also required to pay for some expenses, like travel to promotional events, out of their own pockets.
"We would never tolerate shortchanging of women workers at any other workplace. An NFL game should be no different." said Rep. Lorena Gonzalez, the bill's primary sponsor. The San Diego Democrat is also a former high school and college cheerleader.
"Today we took an important step toward ensuring that multi-billion dollar sports teams treat cheerleaders with the same dignity and respect as every other employee who makes the game-day experience special," she said.
Related: NFL gets billions in subsidies from U.S. taxpayers
The Raiders settled the cheerleaders' class action suit for $1.25 million last September. Cheerleaders for teams in other states, including the Buffalo Bills and Tampa Bay Buccaneers have filed similar labor lawsuits. And New York state has introduced legislation to protect cheerleaders' rights that's similar to California's new law.
The National Football League issued a statement saying that "teams are advised to follow state and federal employment laws." But it added that the cheerleaders are employed by the teams, not the league.
Neither the Raiders nor California's two other NFL teams, the Chargers and the 49ers, responded to a request for comment. The four National Basketball Association teams in the state classify their cheerleaders as employees and thus are already complying with the law, according to NBA spokeswoman Amanda Thorn George.