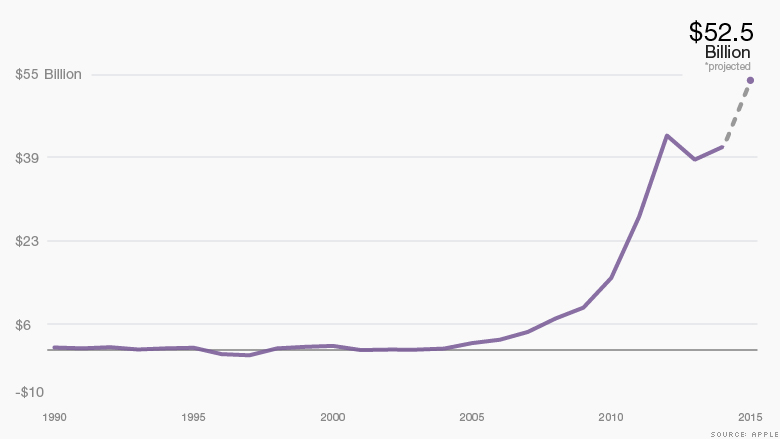 Apple appears to be gearing up for a record breaking year.
In the last three months of 2014, Apple posted the biggest quarterly profit -- $18 billion -- in corporate history. For Apple's fiscal year, which ends in September, the company is set to rake in $52.5 billion in earnings, according to analysts surveyed by Thomson Reuters.
If Apple (AAPL) hits that mark, it would be the largest annual profit ever generated from a company's operations. (Fannie Mae got a giant one-time accounting benefit in 2013 that gave the company a net income of $84 billion). Apple is already in striking distance of besting ExxonMobil's (XOM) record-setting $45 billion profit recorded in 2008.
Apple is set to report its past-quarter earnings on Tuesday, and analysts are expecting a relatively lean (for Apple) $10.4 billion in net income.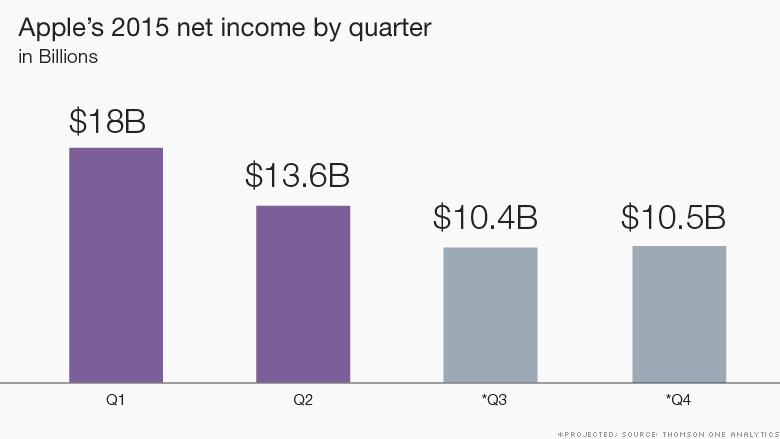 Here's how Apple is generating so much profit.
1. iPhone sales lead...again
The record 74.5 million iPhones that Apple sold during the holiday shopping season helped Apple's profit soar more than 37% that quarter.
The iPhone remains popular despite the fact that Apple is likely to announce a new version in the coming months. Apple sold 61 million iPhones in the first three months of 2015, and analysts polled by FactSet estimate that Apple sold another 47 million iPhones last quarter.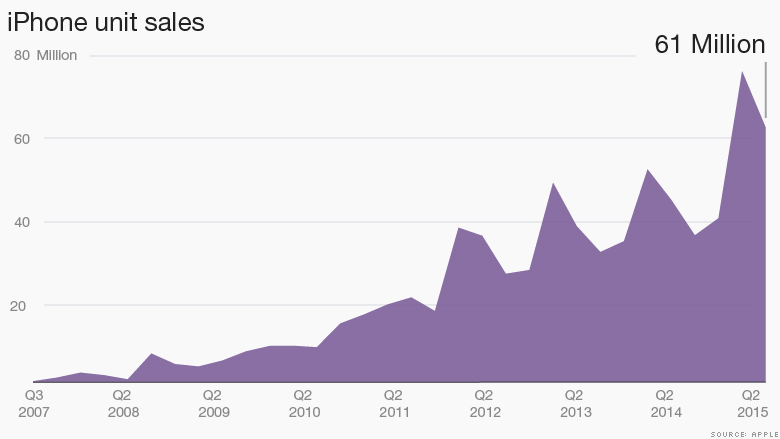 The big screens on the iPhone 6 and iPhone 6 Plus proved popular competitors to large-screen Android phones.
IPhone unit sales are expected to be relatively stable in 2015 and 2016 but as more people own iPhones, analyst Andy Hargreaves of Pacific Crest Securities worries that this growth "creates risk if we reach the point of complete saturation or if a competitor slows Apple's share gains."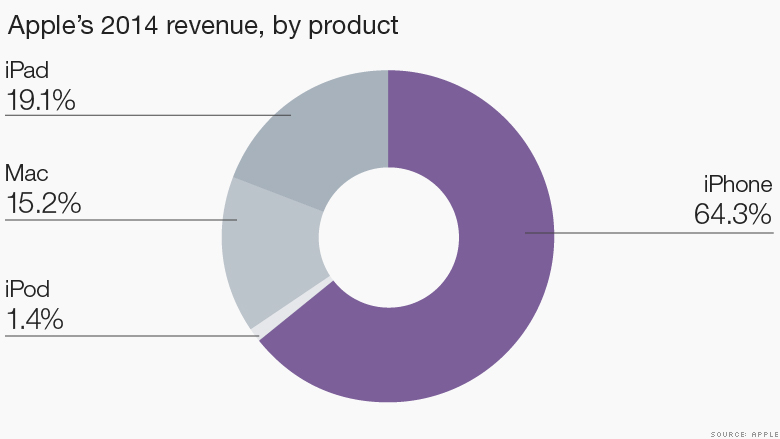 2. MacBooks are hot!
The PC industry slumped 11.8% worldwide in the second quarter compared to last year, according to IDC, a market research firm -- but Apple bucked the trend.
While all major PC brands like HP (HPQ), Dell and Lenovo (LNVGF) reported a decline in computer sales, Apple's MacBook sales grew by 16.1%.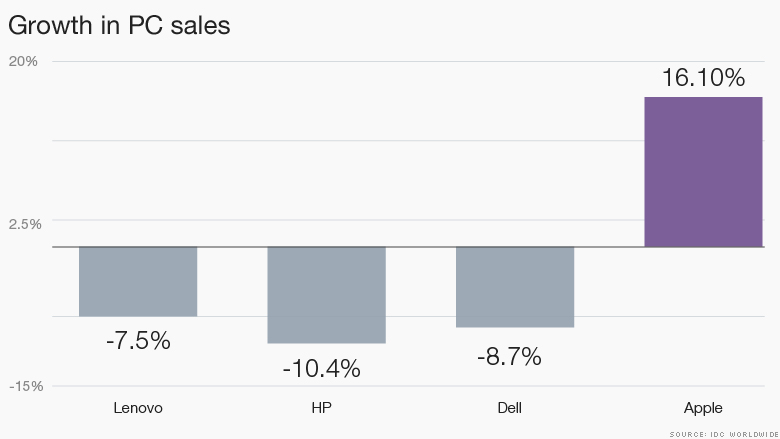 3. Is China's downfall Apple's downfall?
Despite the roaring success of Chinese smartphone brands like Xiaomi, Apple has held its own in China -- Apple's biggest growth market.
But a slowing Chinese economy could pose a risk for Apple. This year, analysts have their eyes glued to changes in consumer habits in China in response to the recent stock market crash. However, UBS believes the country's market turmoil will have a limited impact on the economy.
"Apple is penetrating China at multiple income bands, consumers are upgrading to more expensive phones, and Apple has the highest brand commitment level," UBS's Steve Milunovich wrote in a recent report.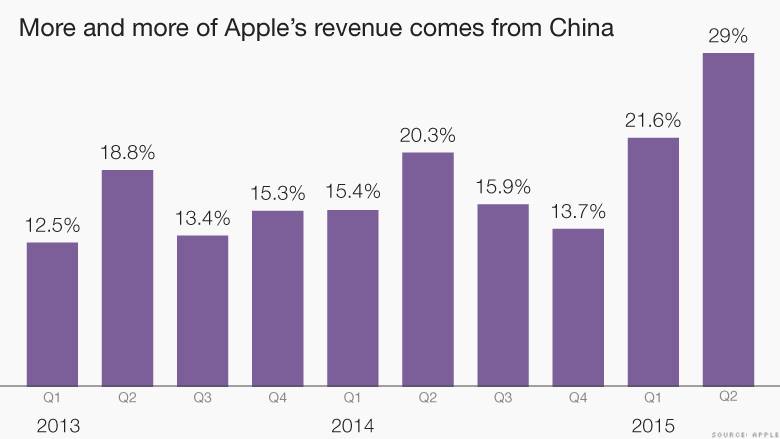 4. Apple Watch remains a mystery
The X-factor in Apple's earnings could be the Apple Watch. The company has been tight-lipped on the Watch's sales performance, and that likely won't change when Apple announces its quarterly earnings on Tuesday.
In a note to clients Pacific Crest's Hargreaves wrote: 'Anecdotal evidence suggests Apple Watch demand is slowing quickly' and predicted sales for 2015 will reach 10.5 million - 500,000 less than his initial estimates.
On the other hand, Trip Chowdhry, Managing Director of Global Equities Research, believes more than 40 million Apple Watch sales could sell this year.
Basically, estimates are all over the place.
Until Apple releases its official figures, there is no way of really knowing. But don't expect to see Apple Watch figures yet. Before the Watch released, the tech mammoth announced that it will be lumped with the likes of Apple TV, Apple music -- and recently, the iPod -- in the "other" category.
With or without the Watch, Apple is posited to report strong numbers this year.