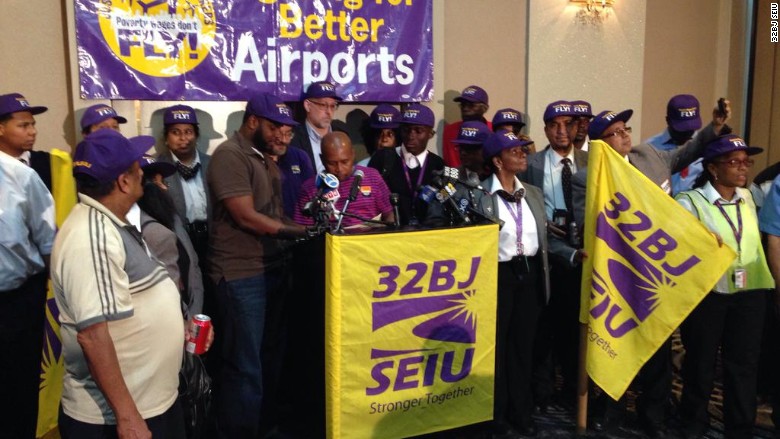 Airport workers called off a strike at JFK and LaGuardia after they got the green light to try to unionize.
About 1,000 employees of Aviation Safeguards, a Delta (DAL) subcontractor, had planned to walk out Wednesday at 10 pm to protest for higher wages and the right to organize.
Aviation Safeguards employee Juan Chapman said at a Wednesday afternoon press conference that workers have reached an agreement with parent company Command Security Corporation.
"We are saying to corporate America, the time is now to share the wealth in this country to make a better life in our airports and everywhere," said Héctor J. Figueroa, local president of the service union that's helping Aviation Safeguards workers organize.
Related: JFK, LaGuardia workers set to strike Wednesday
Next, workers will vote on whether to unionize. A yes vote will mean that the service worker's union will eventually negotiate a contract on the workers' behalf.
"We fight, we win. If we don't fight, we're not going to win," said Rahim Akhbarally, who said he's worked for the firm for 21 years.
The union expects to negotiate a $15 pay mandate with Port Authority as well as affordable health care for all subcontracted airport workers.
The service union will help workers through out New York and New Jersey at JFK, LaGuardia and Newark airports negotiate new labor contracts.
Related: New York fast food workers' $15 wage vote on Wednesday