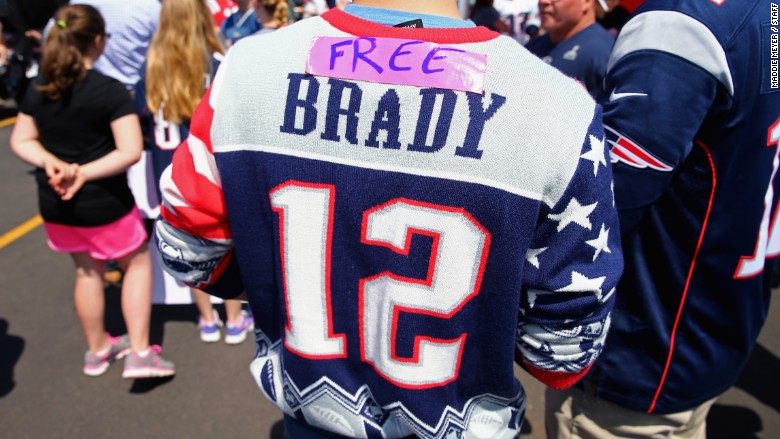 Tom Brady may have gained an unfair advantage by using deflated footballs, but his status hasn't suffered. Sales of his merchandise are pumped up, despite the Deflategate controversy.
No other NFL players could beat the New England Patriots quarterback's sales of jerseys, hats, posters and other paraphernalia in March, April and May, according to the NFL Players Association.
Pats gear bearing Brady's #12 has soared beyond runner-ups like Colin Kaepernick of the San Francisco 49ers, Russell Wilson of the Seattle Seahawks, Aaron Rodgers of the Green Bay Packers and Peyton Manning of the Denver Broncos.
This is in spite of the controversy which swirled around allegations that Brady was playing with deliberately deflated balls in the Pats' victory over the Indianapolis Colts in January. The allegations of cheating are no so small matter, especially since the Patriots went on to win the Super Bowl. The NFL strictly regulates the air pressure of footballs.
The league investigated the incident and determined that Brady had either tampered with the game balls, or he at least knew of the "inappropriate activities." He was suspended for four games, and even though he has appealed that ruling, the team was fined $1 million.
But it seems like Brady's scarlet letter is acting more like a badge of honor.
Even the Deflategate ball itself is generating cash. The tainted ball used in the Pats versus Colts game was auctioned off in June for nearly $44,000.
Related: LeBron James teams up with Warner Brothers for TV and film
-- CNN's Jason Durand contributed to this story.
Correction: An earlier version of this article incorrectly said that the NFL had released the merchandise sales figures. It was actually the NFL Players Association that made the list available.