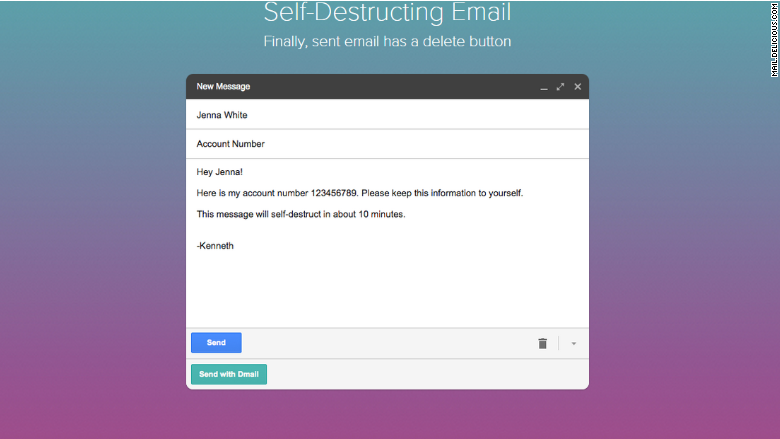 Gmail just went all Snapchat on us.
Dmail, a new Google (GOOG) Chrome plugin, gives you complete control over how long your recipient can view your email.
This can prove a great asset for more secure communications or when discussing personal information.
The Chrome extension adds a "Send with Dmail" button next to the regular "Send" button in any email you compose. This gives you complete control to revoke sent emails.
But wait, doesn't Gmail allow users to revoke sent emails?
Well, yes and no. Gmail's "undo send" button only works for up to 30 seconds. Dmail gives you as much time as you like.
You can preset timing such as "in 1 hour" or "in 1 week" and the message will self-destruct accordingly.
If you don't have a predetermined time frame, pick "never" as your time frame. If you need to revoke it at a later date, you can find the email in your sent folder and do so.
All messages are encrypted and whenever the sender restricts the right to access, the recipient will no longer be able to see the original message.
Plus, Dmail claims that they will soon unlock a feature where forwarding won't work -- only the intended recipient will be able to see your message.
Although you can receive Dmail messages from any email account or client, you can only send them through Gmail on Chrome.
The world of ephemeral online communications is growing beyond fun photos and videos.