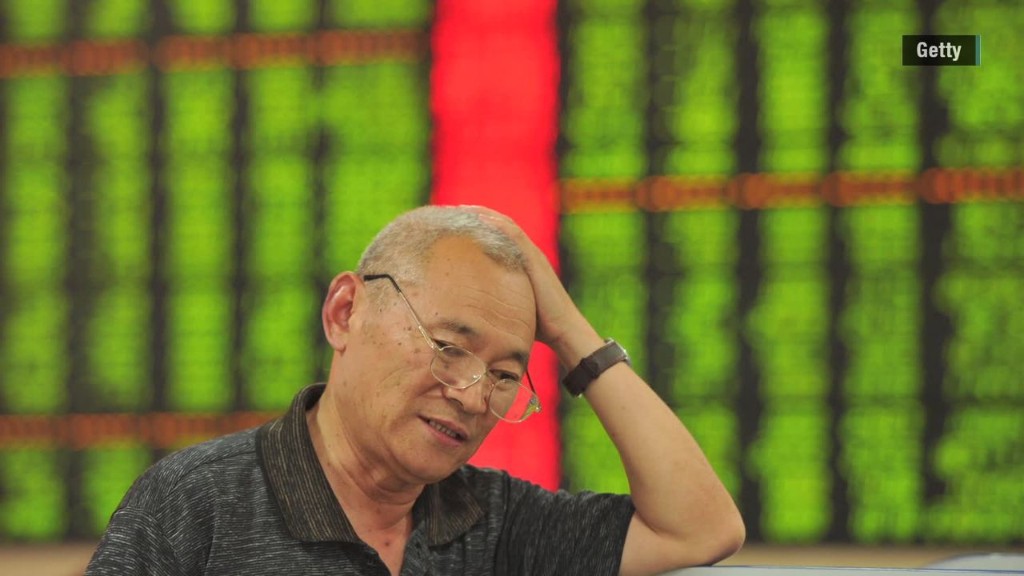 Another savage drop for China stocks is spreading plenty of investor anxiety on Monday.
The Shanghai Composite closed down 8.5%, leading a sea of red across markets in Asia and Europe. U.S. stock futures were lower in early trading.
Here are the 5 things you need to know before the opening bell rings in New York:
1. China rout: Fears of a bigger crash in China stock markets are rising after Monday's plunge, a return of wild trading following two weeks of relative calm.
Beijing took a series of steps to stop a market rout in late June and early July - including cutting interest rates and suspending new IPOs - which appeared to be working, until Monday.
But fear has once again gripped investors in China.
"The extent of the sharp drop would appear to suggest that the Chinese economy is struggling to respond to the measures already implemented, raising wider concerns of a much sharper and deeper slowdown," said CMC markets analyst Michael Hewson.
The concern is that trouble in China -- the world's second largest economy -- will pull other major economies, like the U.S. down with it.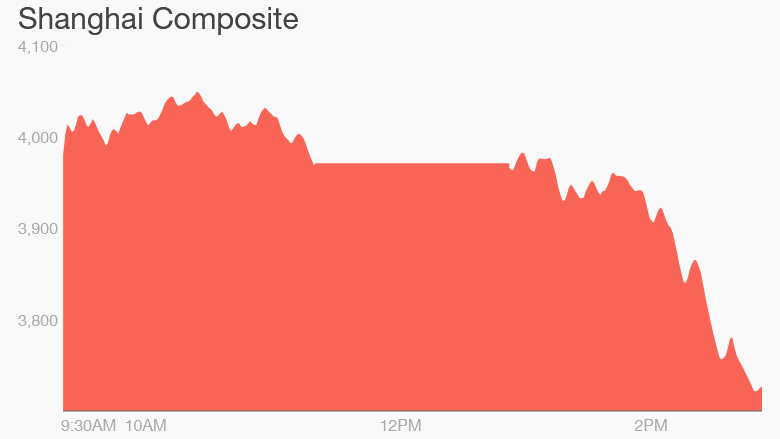 Related: China's economy is getting sick. Will it infect America?
2. Commodities sell-off: Base metal prices were sharply lower, with copper and zinc both slumping by more than 2%. Oil extended its recent slide, shedding 0.6% to just below $48 a barrel, in electronic trading.
Falling commodity prices are a worrying signal about the global growth outlook. After years of insatiable appetite for raw materials, China's slowdown is playing a huge role in the demand picture.
Related: What's behind the slide in copper, oil
3. Earnings & economics: Restaurant Brands International (QSR), which owns Burger King and Tim Hortons, is among the firms reporting ahead of the open.
This afternoon, another round of companies including Rent-A-Center (RCII), will report quarterly earnings.
On the economics front, the U.S. Census Bureau reports June durable goods orders at 8:30 a.m. ET. Orders were down in May mainly due to a drop in aircraft purchases, though other manufactured good sold well.
4. International markets: Jitters in China washed over to European markets in early moves.
Germany's DAX index dropped 1.3% despite an upbeat report on business sentiment. France's CAC index shed 1.4%. The Greek stock market stayed shut as regulators try to figure out how to resume trading while financial transactions remain limited due to the country's debt crisis.
Asian markets ended deep in the red.
China's tech-heavy Shenzhen index plunged 7% and Hong Kong's Hang Seng index tumbled 3.1%. Japan's Nikkei index closed down 1%.
Meanwhile, another big pharma tie-up has been inked: Israel's Teva Pharmaceutical (TEVA) is paying $40.5 billion to acquire Allergan's (AGNPRA) generic drugs business. Teva shares were up by nearly 14% premarket.
5. Friday market recap: It was a soft end to the week for U.S. markets. The Dow Jones industrial average dropped 0.9%, while the S&P 500 shed 1.1%, and the Nasdaq sank 1.2%.