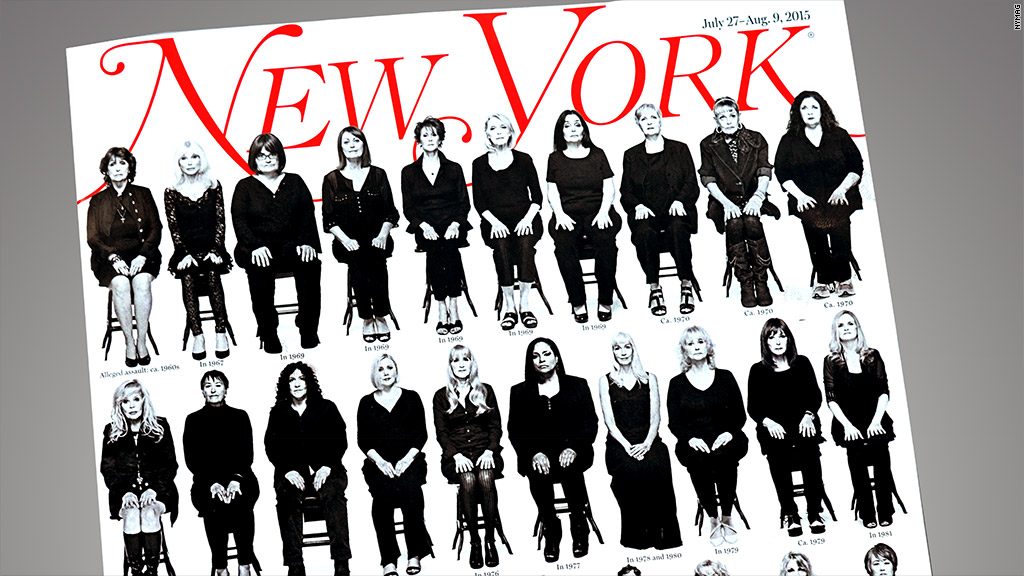 Thirty-five women who have accused Bill Cosby of sex assault appear on the current cover of New York Magazine in a stunning statement of unity against the legendary comic.
The black-and-white photograph of the women seated in similar poses appears on the July 27 issue. The headline reads, "Cosby: The Women. An unwelcome sisterhood."
Cosby, who has not been charged with any crime, has repeatedly denied the accusations.
But they gained traction in recent weeks when a deposition from 2005 surfaced in which he admitted to obtaining Quaaludes in the 1970s with the intention of drugging women so he could have sex with them. He never admitted actually giving the drug to the women, however.
New York Magazine's website crashed Monday for about 12 hours before going back online.
The issue has interviews with accusers, who described the alleged incidents in harrowing detail, including their difficulties in getting people to support them.
One of the women, PJ. Masten, tells the magazine that a friend advised her, "You do know that's [Hugh] Hefner's best friend, right? Nobody's going to believe you. I suggest you shut your mouth."
The magazine cover blew up on Twitter, with some labeling it "brilliant, "the best (saddest) cover of the year," and, simply, "wowww." But the Twitter-verse was also rife with trolls attacking the accusers, calling them "liars" and criticizing their physical appearances.
"Seriously?" one commenter responded. "A group of women get together to speak out and you attack the way they look?"
New York Magazine says that emails to four of his lawyers and press reps went unanswered. Cosby rep Andrew Wyatt declined comment to CNNMoney.