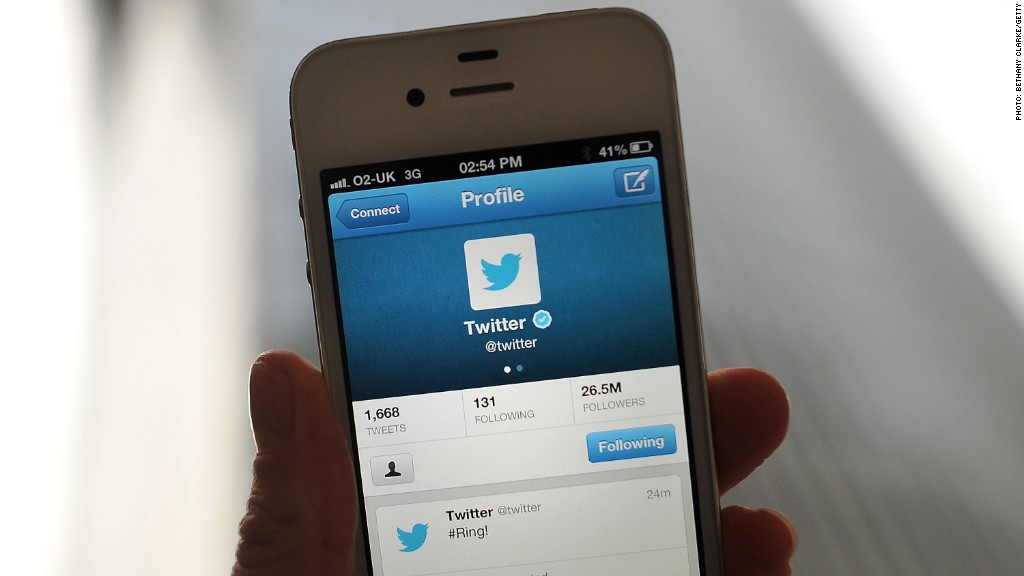 Twitter will report its latest results on Tuesday. Here's a one-line preview in 140 characters. (As you'll see, it rhymes and you can choose to rap with it.)
Twitter's stock is near a 52-week low. Wall Street wants a new CEO. Monthly active user growth is slowing. BTW, how's that CEO search going?
Investors have not been happy with Twitter (TWTR) lately -- even though CEO Dick Costolo announced he was stepping down last month.
Costolo had worn out his welcome with many Twitter shareholders. The company did not live up to the massive hype since going public in late 2013.
User growth has been sluggish and investors are wondering what Twitter can do to become an even bigger player in the digital advertising market.
Related: Jack Dorsey's facial hair takes Twitter and the rest of the Internet by storm
That's why Wall Street is eager for any updates about who the next CEO will be. Twitter named co-founder Jack Dorsey (and his beard) as interim CEO.
But Dorsey also runs mobile payments startup Square. And Bloomberg reported late last week that Square may be looking to file for an initial public offering.
Can Dorsey continue to run Twitter and Square for much longer? That seems unlikely.
When Twitter set up a CEO search committee a few weeks after Costolo's depature, the company said it will only consider "candidates who are in a position to make a full-time commitment to Twitter."
That suggests that Dorsey will need to soon make a choice.
On a side note, rapper Snoop Dogg tweeted last month that he wants to be the company's CEO!
Related: Magic Johnson to join Square's board
Twitter was not immediately available for updates about its CEO search.
Sarah Hindlian, an analyst with Brean Capital, wrote in a recent report that she isn't ruling out the possibility of Dorsey becoming the permanent CEO.
But she added that another rumored frontrunner for the job, president of revenue and global partnerships Adam Bain, could also be a good successor to Costolo.
So far, most of the reports about Twitter's CEO search indicate that the company is probably going to give the job to someone who already works for Twitter.
Still, there has also been a fair amount of speculation about whether Twitter could be a takeover target. There have been rumors that Google (GOOGL) could be interested.
Twitter's stock even rallied a few weeks ago following a fake media report about Twitter being in merger talks.
Related: Twitter shares soar on phony Bloomberg story
Either way, Wall Street wants the company to name a new CEO or new owner that can rejuvenate the company and make it more inviting to those who don't use the platform.
While Twitter has 302 million monthly active users, that pales in comparison to Facebook's more than 1.4 billion users worldwide.
The comparisons to Facebook (FB) may be unfair, but investors aren't that discerning when it comes to social media companies.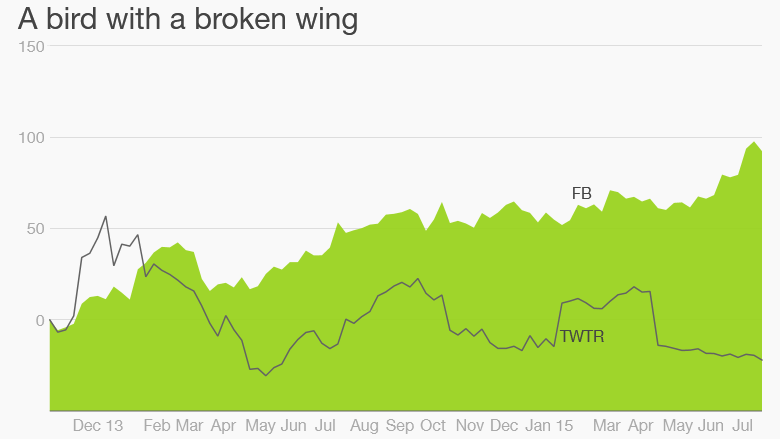 Analysts expect Twitter to report that it ended the second quarter with about 312.8 million users, an increase of just 3.5% from the first quarter.
But Brian Wieser, an analyst with Pivotal Research Group, thinks Twitter should not be ashamed or apologetic. He argues that investors (and even company executives) are paying too much attention to user growth and not enough to revenues.
Analysts are predicting a more than 50% jump in sales -- with the bulk of that growth coming from a surge in advertising revenue.
Wieser said that Twitter has plenty of opportunities to make more money from its existing user base instead of worrying about grabbing more users.
Related: Twitter throws frat-themed party in midst of discrimination suit
Twitter, at the end of the day, can be an intimidating service for those not used to it. It is not as user-friendly or easy to understand as Facebook.
"There is too much focus at Twitter on making the core product ubiquitous when it's not ubiquitously appealing," Wieser said. "There could be a strong niche opportunity for Twitter. I've never been persuaded by the argument that Twitter is something for everyone."
So Twitter clearly needs someone that can keep its core users -- and employees -- loyal and happy. If Twitter loses more of them, there could be trouble.
Hindlian pointed out that there were already concerns about a Twitter brain drain before Costolo resigned. Several executives have left in recent months, with some joining Google and Facebook.
That makes it more urgent to find the right person to lead Twitter, someone with charisma and a solid strategic vision.
"Given the number of people leaving, we think the board has to make a push to conclude the CEO search with a strong candidate as soon as possible," Hindlian wrote.