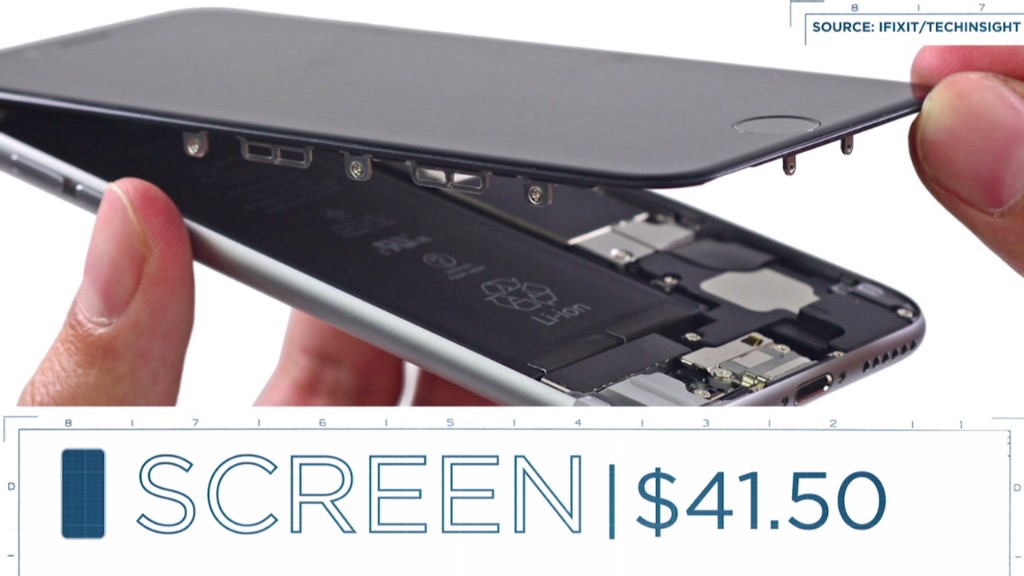 A new iPhone can be expensive. If you want to offset the cost by selling your old one, now might be the best time to do it.
Resale values start dropping by about 10% in September and October, according to eBay (EBAY) data analyzed by NextWorth, a gadget trade-in site. That's generally when Apple (AAPL) releases new versions of the iPhone.
If you wait until fall, supply of older iPhones will grow drastically and trade-in values will plummet.
By the time November and December roll around, you could lose out on as much as 30% of a phone's secondary market price.
NextWorth CMO Jeff Trachsel told CNNMoney that the company has seen this trend persist for the past four years. The company looked at every iPhone sold on eBay between July and December 2014 -- hundreds of thousands of sales, he says.
"We fully expect this [pattern] to continue for the launch of Apple's upcoming phone," said Trachsel.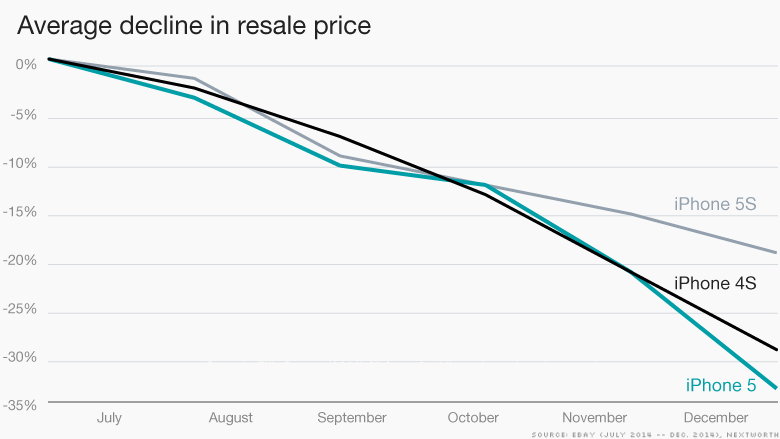 There is no shortage of companies that will allow you to trade in your iPhone, including all four national carriers, Apple (AAPL), Best Buy, Target, Walmart, Amazon (AMZN), Gazelle and NextWorth, among many others. Price-shopping is a good idea if you're going to sell your old iPhone.
Here's what NextWorth is offering now, compared to what you can expect to get at the end of the fall:
A 128 GB Apple (AAPL) iPhone 6 with T-Mobile in good condition could be resold for $380 right now. Waiting until the last months of the year to trade in the same phone would land you just $250.
An iPhone 6 Plus of the same size with AT&T could fetch $435. But wait until December, and you'll only get $287 for it, according to NextWorth.
Here's how much you can expect to get for a fully functional 16 GB iPhone 6, according to NextWorth. Add $10 and $20 more for 64 GB and 128 GB models, respectively.
Verizon: $390
AT&T: $360
T-Mobile: $350
Sprint: $270
Here's how much you can expect for a working 16 GB iPhone 6 Plus:
Verizon: $450
AT&T: $415
T-Mobile: $360
Sprint: $340
Ultimately, how much you can get for your phone depends on a lot of factors, including what condition it's in, how much storage capacity it has and whether or not your phone is unlocked. NextWorth offers $10 more for unlocked phones. Gazelle offers up to a $50 premium for unlocked phones.