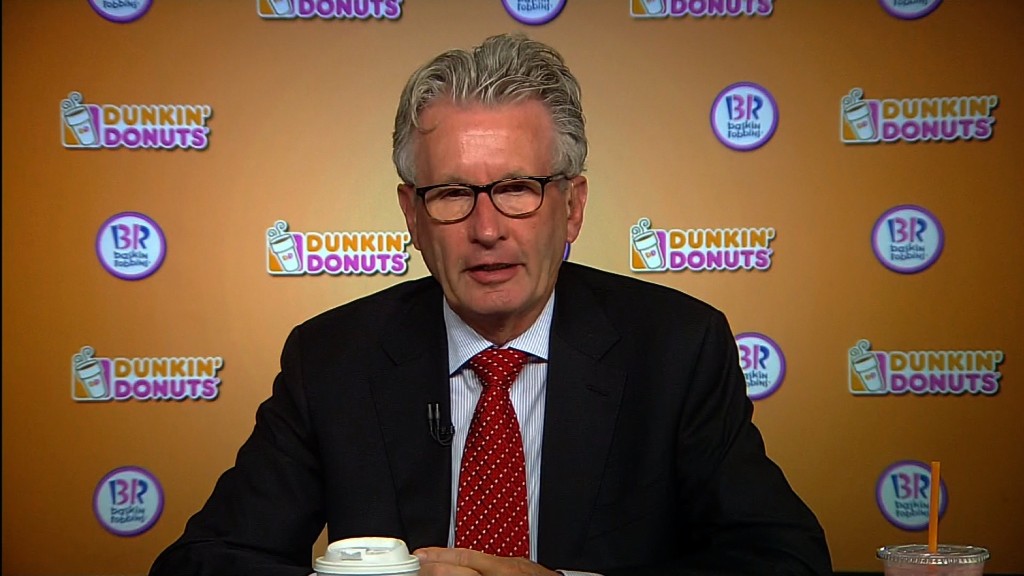 Fast food workers are clamoring for a higher minimum wage. But the CEO of one big restaurant chain worries that boosting the minimum wage to $15 an hour could hurt teens looking for their first job.
Sally Smith, the CEO of Buffalo Wild Wings (BWLD), told CNNMoney Wednesday that her company and other restaurants may not want to hire teens for $15 an hour because that's too much to pay for an inexperienced worker.
"It's important to remind people that the restaurant industry trains a lot of people. Restaurants are often where a person gets their first job. They get it in high school or college," Smith said. "So a $15 minimum wage could have an impact on youth employment."
Buffalo Wild Wings isn't actually on the list of 116 companies that would be affected by New York State's proposal to raise the minimum wage for fast food workers to $15 an hour.
Related: New York pushing for $15 an hour for fast food workers
But laws to make $15 the minimum wage for all workers have passed in Seattle, San Francisco and Los Angeles. So higher wages are a reality for all restaurant companies.
Buffalo Wild Wings said in its second quarter earnings report Tuesday that labor costs rose more than 20%.
Smith said that some Buffalo Wild Wings franchises already refuse to hire anyone under the age of 21. One reason is because the chain serves beer. But Smith said the bigger factor is that franchisees can save money by hiring older workers who don't need as much training.
"It may be hard to justify hiring a 16-year old for $15 an hour when you can get experienced people," Smith said.
That could be bad news for teens, who already have an unemployment rate of 18.1% according to the government. The teen unemployment rate is down from 20.7% a year ago, but it's started to tick higher again in recent months.
Many restaurant CEOs are speaking out about higher minimum wages.
Dunkin' Brands (DNKN) CEO Nigel Travis told CNN"s Poppy Harlow last week that $15 an hour was "outrageous." McDonald's (MCD) CEO Steve Easterbrook told investors that many franchisees are nervous.
Still, Smith did not think that a $15 minimum wage would necessarily cause companies to cut back on hiring.
Related: Dunkin' CEO says $15 minimum wage is too high
In fact, she thinks that even more older workers may apply for fast food jobs if rates go as high as $15. That would make it even tougher for teens looking for fast food work.
Smith added that big restaurant owners should be able to offset some of the higher labor costs by raising menu prices. There are also ways to make the restaurants more efficient.
Buffalo Wild Wings, for example, lets many customers order with tablets. Smith said the company is looking to have all of its servers use handheld devices that would let customers quickly pay at their table.
Wall Street doesn't seem too concerned about higher wages hurting profits for the top chains either. Buffalo Wild Wings shares surged 10% Wednesday thanks to a strong sales outlook.
Related: Sally Smith made it to CNNMoney's Best CEOs of 2014 list
Shares of another fast casual chain, Panera (PNRA), soared nearly 10% thanks to bullish sales forecasts for the third quarter, even though the chain has also had to deal with rising wage costs. Labor expenses rose 13% in the second quarter.
So it looks like successful companies -- places where consumers actually want to go eat -- will adjust to the fact that their workers may soon make more money.
To that end, Starbucks (SBUX), Dunkin' Brands and Chipotle (CMG) all reported strong earnings and sales last week -- despite increasing labor costs.
But McDonald's (MCD) continues to struggle as it grapples with issues much bigger than worker pay.
CNNMoney's Jeanne Sahadi contributed to this report.