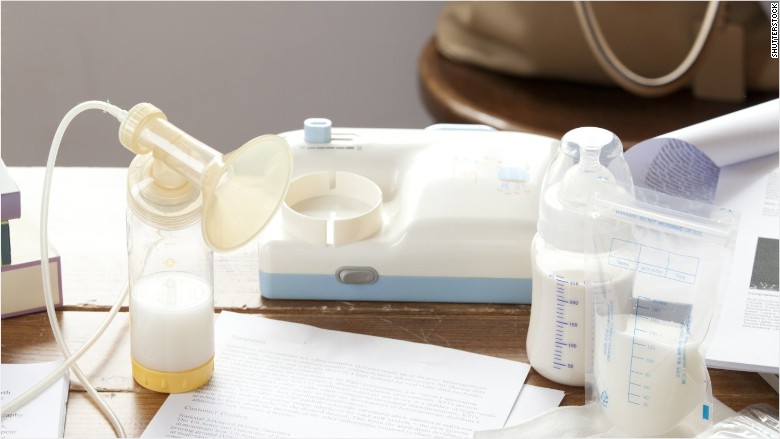 Kegs aren't office must-haves. But breast-pumping rooms? They should be.
So why doesn't WeWork -- a five-year-old company that sublets office space to entrepreneurs -- have one in all of its locations?
That's the question that entrepreneur Eileen Carey is asking.
Carey and her Glassbreakers co-founder Lauren Mosenthal employ five people -- soon to be eight -- including one new mother. They recently moved the team to WeWork's Golden Gate location.
"We were shocked to discover that though there are kegs to pump WeWork beer at every kitchen, there isn't a designated lactation room on any of the seven floors for members to pump breast milk," she wrote in an op-ed on TechCrunch on Wednesday.
"Nursing mothers need to pump three to four times during a typical workday, for about 30 minutes per session. If a mother doesn't have access to pump regularly, her breasts can become engorged, and engorgement can lead to a painful and dangerous infection called mastitis," she wrote.
WeWork has over 29,000 members in 47 locations in 16 cities. In June, it raised $400 million funding, valuing the company at $10 billion, according to PrivCo, a data provider on privately-held companies. WeWork is well-known for its office amenities, including yoga rooms, arcades and bocce courts, which Carey cited.
WeWork did not immediately respond to requests for information on how many of its locations include lactation rooms.
Lactation rooms at work are a federal requirement. Employers must provide a location "shielded from view and free from intrusion from coworkers and the public." And it can't be a bathroom. (This right to nurse is the basis for a company called Mamava, which has designed a free-standing pod that businesses can set up to offer women clean, safe and functional places to pump.)
WeWork doesn't employ the companies that work out of its space, which makes things tricky. It's not technically illegal not to have lactation rooms in its coworking spaces.
But even so, the lack of a room impacts the types of startups working out of its spaces. Solving Silicon Valley's diversity program means accommodating women and those with families into the startup workforce.
"It definitely creates bias and problems for any company working out of that space," Carey told CNNMoney.
Some co-working spaces, like Galvanize, do offer lactation room. (Glassbreakers worked out of Galvanize until it moved to WeWork in July as part of an accelerator program.)
Carey said she first reached out to WeWork on July 3 about the lack of breast pumping or "family room" that offices are required to have. A employee at the Golden Gate office suggested providing a privacy screen, which could be used in a conference room, or reserving space if a pumping schedule was provided in advance.
That's an inadequate solution, according to Carey, given that schedules aren't predictable. Carey said she penned the TechCrunch piece in frustration after WeWork Golden Gate's lack of cooperation. She told CNNMoney she gave the company two weeks notice before posting the op-ed but has yet to receive a response.
WeWork said it promptly responded.
"We took action right away to develop a multi-use space at Golden Gate that can be used for lactation. There was a breakdown in communication to [Eileen] about our plan, which was our mistake," said a WeWork spokesperson in an e-mail statement.