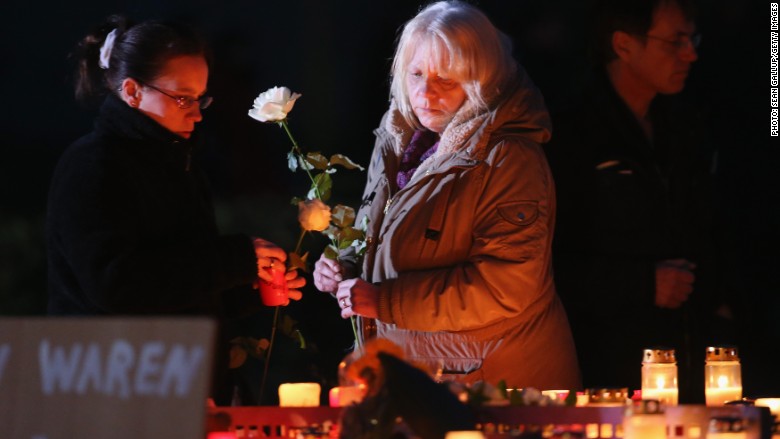 Relatives of people who died when a Lufthansa plane crashed in March have expressed their outrage at the airline's offer of compensation.
Germanwings Flight 9525 was flown into a mountainside in France by its pilot, killing all 150 people on board.
Some relatives may receive as little as 95,000 euros ($104,000) per victim in compensation, while others could receive millions, according to lawyers representing the families.
Lufthansa, which owns Germanwings, said it was still negotiating with the victims' families but confirmed some may receive that minimum payout.
The airline paid an initial sum of 50,000 euros per victim to help with immediate costs, and is offering at least 45,000 euros on top to families of the 72 German victims.
So far, none has accepted Lufthansa's offer, and the discussions could drag on for months. Some relatives were so incensed they wrote an open letter to Lufthansa CEO Carsten Spohr, slamming his handling of the disaster.
"To value the life of each of our children and our pain at 45,000 euros is the deepest of insults to us, and above all to our children. That's what Lufthansa pays you personally each working week. Every week," they wrote in a letter published this month.
"All the time and all the money we spent with our children was washed away by the act of a Lufthansa pilot. At least that must be replaced."
They also called him out for failing to apologize, and for not speaking with them directly.
Elmar Giemulla, a lawyer who represents families who signed the letter, said Spohr has now agreed to meet them in their hometown. Giemulla has proposed a minimum payment of 650,000 euros per German victim.
Andreas Bartels, a spokesman for Lufthansa, would not confirm plans for the meeting, saying it was in the best interests of the families to keep these conversations private.
Related: How safe are European airlines?
Based on evidence from the crash, it's widely believed co-pilot Andreas Lubitz crashed the plane into the French Alps after struggling with depression. He visited many doctors in the years leading up to the crash, and at least one deemed him unfit to fly.
Due to Germany's strict confidentiality laws, those who could prevent Lubitz from flying were not told about these issues. France is planning a criminal investigation.
Related: The latest on the disappearance of Malaysia Airlines Flight 370
Lufthansa's spokesperson said the airline had taken every step possible to support the families.
"We went far beyond what is the minimum [requirement]," Bartels told CNNMoney. "We did the utmost to take care of the relatives and families."
Lufthansa has assigned 600 people to work with family members.
Different legal systems in different countries around the world are used to determine compensation. The German system discourages large payouts, while the U.S. system is extremely generous -- Giemulla says American families receive an average payout of $6.5 million per plane crash victim.
Lufthansa is also offering up to 13.8 million euros towards education costs for children left behind, and for projects to honor the victims.
U.S. aviation attorney Mike Danko was unimpressed by Lufthansa's offers.
"Lufthansa's 'plan' for additional long term support of the families is window dressing. It allows Lufthansa to take advantage of the German system and offer the families peanuts without looking completely heartless," he told CNNMoney.