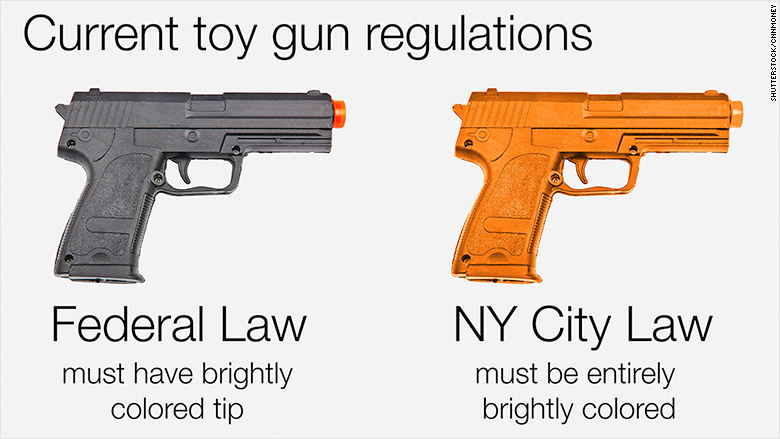 Five major retailers have agreed to stop selling realistic-looking toy guns in New York state, the attorney general said Monday.
Walmart (WMT), Amazon (AMZN), K-Mart and its parent Sears (SHLD), as well as a small online retailer called ACTA announced a deal with New York state attorney general Eric Schneiderman to halt the illegal sales.
He says the toys at issue can be mistaken by law enforcement for the real thing because they don't have the broad orange stripe down the side that's required for fake guns by New York state law. (Federal law requires toy guns to have an orange tip).
The companies will stop shipping the illegal toys to New York and will collectively pay fines totaling more than $309,000.
Since 1994 there have been 63 shootings linked to toy guns in the state, resulting in at least eight deaths, according to Schneiderman. He said at a press conference that it was the 1998 death of Brooklyn teenager Michael Jones, whose water gun was mistaken by police for a real weapon, that spurred lawmakers to ban realistic toy weapons.
But "year after year, we found retailers chose profit over safety," Schneiderman added.
The settlement requires these toymakers to adhere to much stricter requirements that New York City has in place.
Toy weapons sold there must be brightly colored and include a visible logo to make them immediately distinguishable from a real weapon. Now the companies in the Schneiderman deal must adhere to these guidelines throughout New York state.
The companies involved in the settlement sold more than 6,400 illegal toy guns in New York between 2012 and 2014, according to an investigation by Schneiderman's office.
Amazon did not immediately respond to requests for comment.
Walmart had previously paid a fine of $200,000 for violating New York state laws regulating toy guns in 2003. Monday's settlement calls for it to pay another $225,000 -- the bulk of the fine.
"Walmart.com has revised its policy so only items which comply with the New York City code are shipped into New York," Walmart spokesman Randy Hargrove said in an statement.
A Sears (SHLD)spokesman said that the company is "pleased that we were able to resolve the Attorney General's concerns regarding toy gun sales in a mutually satisfactory way."
An ATCA spokesperson said the company has stopped shipping to New York addresses. One of the sites it operates, MoreToyGuns.com, now includes a scrolling red banner warning that all orders to New York state will be canceled.
In addition to the settlement, Schneiderman also announced that cease and desist letters were sent to 65 third-party toy gun retailers that sell products on Amazon.com and two more that sell through Sears.
He hopes the results of New York's investigation will encourage other states that have similar toy gun laws to watch the toy industry more closely.