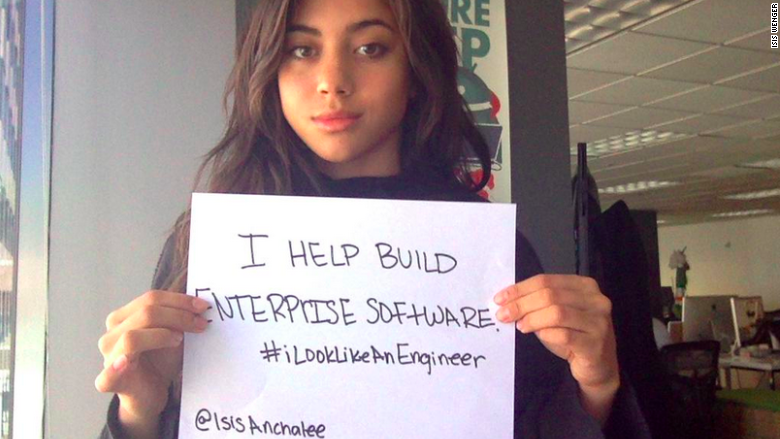 She's a college dropout, a hip-hop dancer, and now an accidental celebrity.
Isis Wenger, 22, is an engineer at San Francisco-based tech firm OneLogin and the driving force behind the trending hashtag #ILookLikeAnEngineer.
She was asked by her company to appear in its new ad campaign, along with two other male employees.
The campaign, which launched just over a week ago, featured a photo of Wenger, a quote about why she liked working at OneLogin, her name and job title.
Friends and strangers alike started posting pictures of the ad on social media and commenting.
Why? For many, it seems the attractive techie didn't fit the mold they thought an engineer should look like.
"If their intention is to attract more women then it would have been a better to choose a picture with a warm friendly smile rather than a sexy smirk," wrote one Facebook user.
The self-proclaimed "extreme introvert" said she wants to use the spotlight to spread awareness of tech's gender issues.
"The negative opinions about this ad that strangers feel so compelled to share illustrate solid examples of the sexism that plagues tech," she wrote in a Medium post published on Saturday. "I'm sure that every other women and non-male identifying person in this field has a long list of mild to extreme personal offenses that they've just had to tolerate."
OneLogin didn't compensate her for appearing in the ad, which appears in several public transit stations near its office. But it has started paying for her Lyft rides, said Wenger.
"I have been intentionally avoiding using public transportation, due to an influx of overly gregarious emails from people trying an attempt at romance," she said in an e-mail to CNNMoney.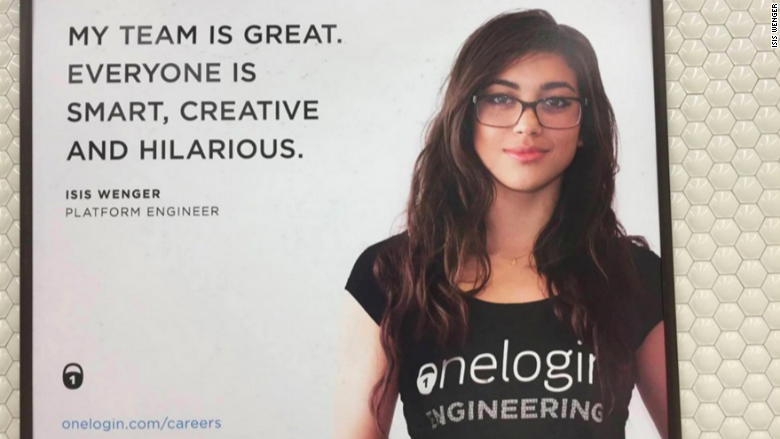 On Monday, Wenger added the hashtag #iLookLikeAnEngineer as a Twitter call-to-action. There has been a flood of responses: over 26,000 tweets using the hashtag in less than 24 hours, most with photos and descriptions of people's roles do in tech.
"I won an award for robotics, deliver killer tech talks, led tech teams & now eng @digitalocean #ILookLikeAnEngineer," tweeted @hopefulcyborg, which received over 300 favorites.
"I'm female, wear pink and I'm pregnant. I'm also a full stack software engineer. #ILookLikeAnEngineer," tweeted @JCHayes.
Another user, @SamanthaGeitz tweeted: "My fave is when people think 'you don't look like a software engineer' is some sort of compliment."
OneLogin CEO and co-founder Thomas Pedersen is hopeful about the conversation that the ad has sparked.
"We hope that the buzz will positively contribute to the conversation about sexism and diversity in tech," he said, adding that only 10% of his company's engineering applicants are women.
In some ways, Wenger is perhaps an ideal role model for young girls. She taught herself how to build websites for Neopets at age 8.
"As an only child I spent a lot of time by myself in front of a computer ... You just need a curious mind ... I have a hard time picturing myself doing anything else," she said.