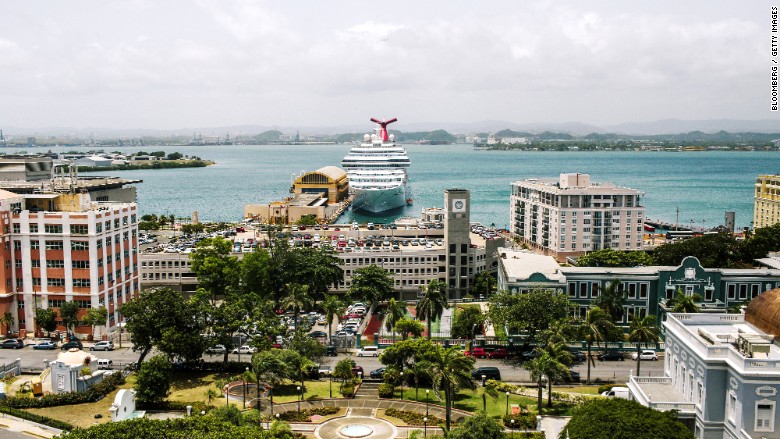 Puerto Rico is in default, its economy is tanking and the government is rationing water.
But some billionaires love the island anyway.
Puerto Rico is trying to lure wealth from the mainland U.S. with generous tax exemptions or cuts on corporate taxes, personal income, capital gains and other sources of profit.
The approach is sort of working. About 250 people with a net worth of $1 million have moved to the island since the law was introduced in 2012. Billionaire John Paulson is leading the charge of Wall Street wealth bound for Puerto Rico.
However, one of Puerto Rico's biggest problems is its shrinking tax base as thousands of Puerto Ricans leave for Florida or Texas in search of a better economy. Welcoming wealthy mainland Americans with tax breaks would appear to be at odds with one of the island's dire needs: tax money.
Related: Hedge funds wants Puerto Rico to close schools
Still, some say the tax exemptions could make Puerto Rico the next Singapore -- an extremely wealthy tax haven.
Peter Schiff moved his asset management firm from Newport Beach, Calif., to San Juan in 2013. Schiff has bought a house in the Ritz Carlton compound just outside San Juan and water is not a problem for him. He plans to move there once his son graduates from high school. Individuals must live in Puerto Rico for 183 days a year to qualify for tax breaks.
But his company is already enjoying financial benefits, paying a low corporate tax rate of 4%. In California, Schiff's firm had to pay the U.S. corporate tax rate, which is about 35%. He says tax breaks like those encourage him to create more jobs, which Puerto Rico badly wants.
Related: Puerto Rico's other crisis: it's running out of water
"I'm saving a lot of money," says Schiff, CEO of Euro Pacific Capital. "It's the closest thing to renouncing your U.S. citizenship without actually doing it...You're still an American, you're just out from under the IRS."
For Puerto Rico, the point of the tax breaks is to make the island a home for the rich and their businesses so they'll spend their money there.
Puerto Rico needs cash fast. The island's government has about $70 billion in outstanding debt. It defaulted on Monday after it failed to make a small payment on its debt owed mostly to ordinary Puerto Ricans, who own the bonds through local credit unions called "cooperativas."
The Puerto Rican government will present a restructuring proposal to its creditors by the end of August.
For now, default isn't deterring the mega-rich from Puerto Rico's tax-free business environment.
"Let's say you want to start a business. Just start it in Puerto Rico. Why would you start it anywhere else?" says Schiff.