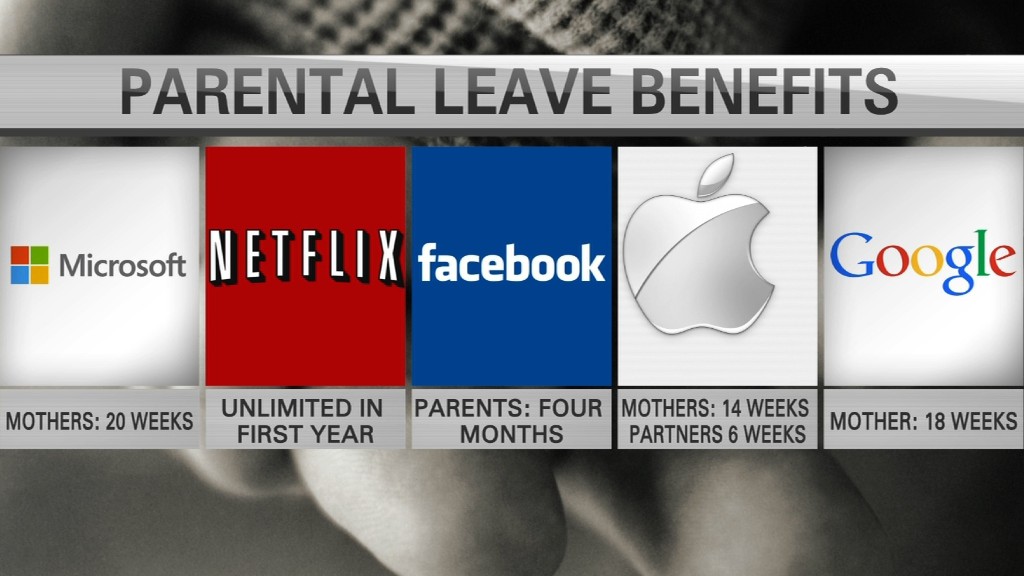 Microsoft is bumping up its paid parental leave for employees.
Starting in November, new mothers in the U.S. can take up to 20 weeks paid leave, and non-birth parents can take up to 12 weeks paid time off. That's eight more weeks paid leave for both parents than the company previously offered.
The change comes one day after Netflix (NFLX) announced it would offer all new parents "unlimited" parental leave during the first year after they adopt or give birth to a new child.
Extended parental leave is the latest benefit that tech companies are using to compete for talented employees. In addition to sizable salaries, many already offered fun perks like free food and alcohol, ball pits, and doggie day-care. Work-life balance programs such as longer parental leave, flexible work situations, sabbaticals, and extra vacation time appeal to older employees who are starting families.
Microsoft's (MSFT) new policy is a combination of eight weeks maternity disability leave and the 12 weeks paid parental leave available to both parents. They can slowly come back to work part time or split their leave in two.
"These changes are in direct support of the culture we aspire to have -- one that allows people to build meaningful careers," said Microsoft's Kathleen Hogan in a statement.
The amount is similar to what other tech companies offer. New parents at Facebook (FB) can take four months off. New moms who work at Apple (AAPL) can take 14 weeks of maternity leave, while their partners can take six weeks.
Outside of the well-funded tech world, parental leave in the United States still trails other developed countries. During his State of the Union address in January, President Obama lamented that the U.S. is the only advanced country in the world that doesn't guarantee paid maternity leave.
Federal law does allow new parents to take 12 weeks off, but only at companies with 50 or more employees -- and even then it doesn't have to be paid. Obama expanded parental leave for federal employees in January. They are now eligible for six weeks paid time off.
Longer maternity leaves can help companies retain female employees. After it bumped its maternity leave from 12 weeks to 18 weeks, Google (GOOG) said new mothers were leaving the company at half the rate they did previously.