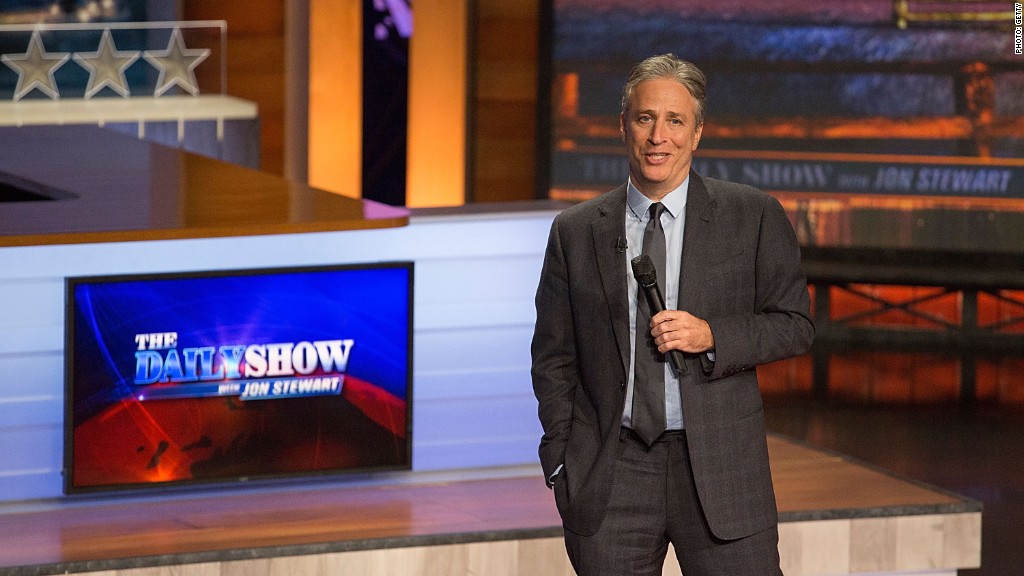 The penultimate episode of "The Daily Show" featured a very sentimental Jon Stewart.
"Before I see the gentle yet firm gravitation pull of my home planet, New Jersey," Stewart said, "I'd like to reflect on what we've built here over these past 16 years."
And what exactly has Stewart built? The host described his show as a "monument to evisceration."
Stewart then showed multiple headlines trumpeting of how he "eviscerated," "annihilated," "crushed" and "demolished" certain topics over the years.
"So now at the end of my tenure, with all my targets pulverized into ash before me, I would like to take a moment to see my crushed enemies driven before me and hear the lamentation of their women," Stewart said.
Related: Jon Stewart fans line up to witness 'end of an era'
This led to a segment called "The Daily Show: Destroyer of Worlds," which featured clips on topics Stewart had supposedly vanquished, including terrorism, race relations and Fox News.
Then the tables turned, and Stewart learned that these problems haven't been solved.
"What the f*** is going on here?!" Stewart screamed while banging on his desk. "The world is demonstrably worse than when I started. Have I caused this?"
The studio then went dark as Stewart picked up a skull and begun a "Hamlet"-esque soliloquy.
"Hath my efforts all been for naught?" Stewart asked. "As I shuffle off this basic cable coil, must I discover my years of evisceration have bettered nothing? Sixteen years of barbs and jeers spurred none to greatness."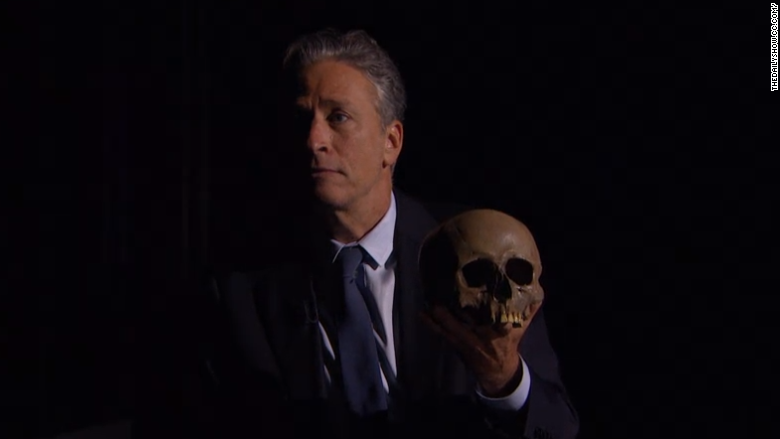 Related: Jon Stewart in his own words
As he continued, clips showing Stewart's beloved New York Mets began to play.
"Oh! I shudder to envision the depths to which the next clip will illuminate the further ensuckingment of my beloved New York Metropolitans," Stewart continued.
But the clip revealed that the Mets are actually now in first place.
"Yes! Yes!" Stewart shouted with his arms held in the air. "I'll take it."
Stewart's final "Daily Show" airs on Thursday.
Comedy Central is trying to keep the finale plans a secret.
"There's been a lot of time and energy and love put into what Thursday night will be," Comedy Central president Michele Ganeless said, declining to reveal anything about the specifics.
It's doubtful that dozens of celebrities will fill Stewart's studio, a la Stephen Colbert's farewell episode last December. But there will definitely be some surprises for viewers.
The finale will air at its usual time, 11 p.m., but will be extra-long. Right now it's slated for 50 minutes.