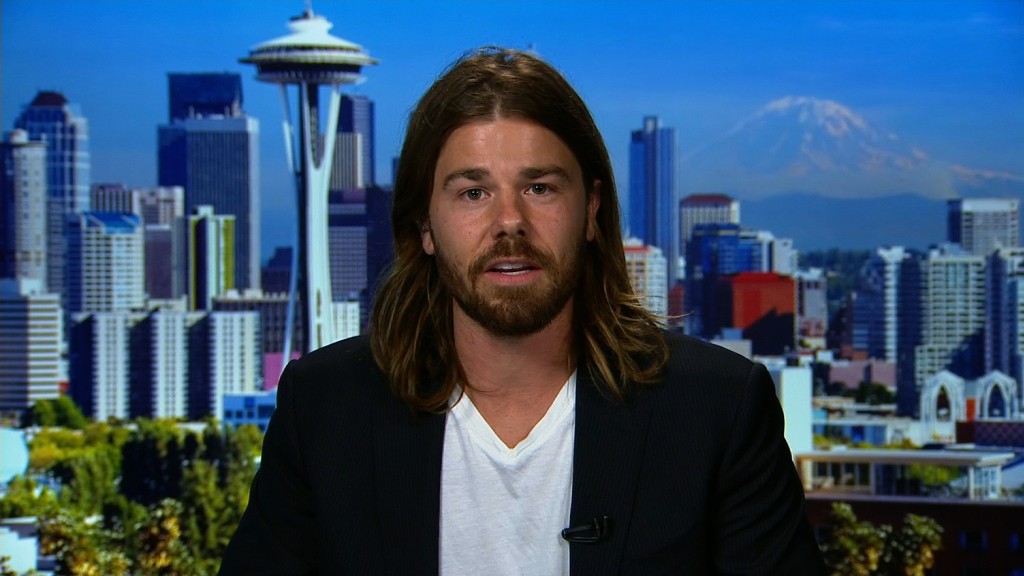 It's been four months since Dan Price, the CEO of Gravity Payments, unveiled a plan to provide even his most junior employees with a salary of $70,000.
Many cheered the controversial policy, but there was also some backlash: Two employees left the Seattle-based payment processor, and so have a few clients. The plan has been attacked by political opponents who say it smacks of socialism.
Price, however, is convinced he did the right thing.
"The road has been bumpy, the challenges have been big, but our resolve ... is more than I ever could have imagined, and I'm thrilled that we're taking on this challenge," Price told CNN.
Price decided to hike his employees' pay after he read a study about happiness, which concluded that addtional income up until a salary of $75,000 a year can make a significant difference in a person's emotional well-being.
About 70 of the company's 120 workers will have their pay raised to $70,000 over the next three years. About 30 of those workers will have their pay doubled.
Price also cut his own salary from nearly $1 million to $70,000, to help pay for the other salary increases.
"If we're actually able to pay everybody enough that they can live a normal life, within a mile or two of our office, then to me, there is a moral imperative to create some standard, some [salary] floor," Price said.
$70,000 promise brings flood of new clients and job applicants
The plan has put the company at the forefront of a national discussion about fair wages and income inequality. Dozens of new customers have signed up for Gravity Payments, attracted to the company's views.
But not everyone is happy about the change. At least two of the company's employees have departed, citing concerns over the policy. One of them, Grant Moran, was in line for a raise, but wasn't thrilled that his salary bump was publicly announced.
"Now the people who were just clocking in and out were making the same as me," Moran, a web developer, told The New York Times. "It shackles high performers to less motivated team members."
Price told CNN that he respects the views of employees who have quit over the policy, but remains happy with his decision.
"I'm being criticized a lot for the short term sacrifice that I'm making. People ... are poking fun at me, or saying, 'look at this guy, he's going to fail or he's failing,' but I think we can actually take pride in that sacrifice," he said.
When asked whether a large, publicly traded firm could adopt the Gravity model, Price said "absolutely."
"Not only could they, I think we'll see that many will," he said.
Gravity Payments CEO takes 90% pay cut to give workers huge raise
'Scandinavian Dream' is true fix for America's income inequality