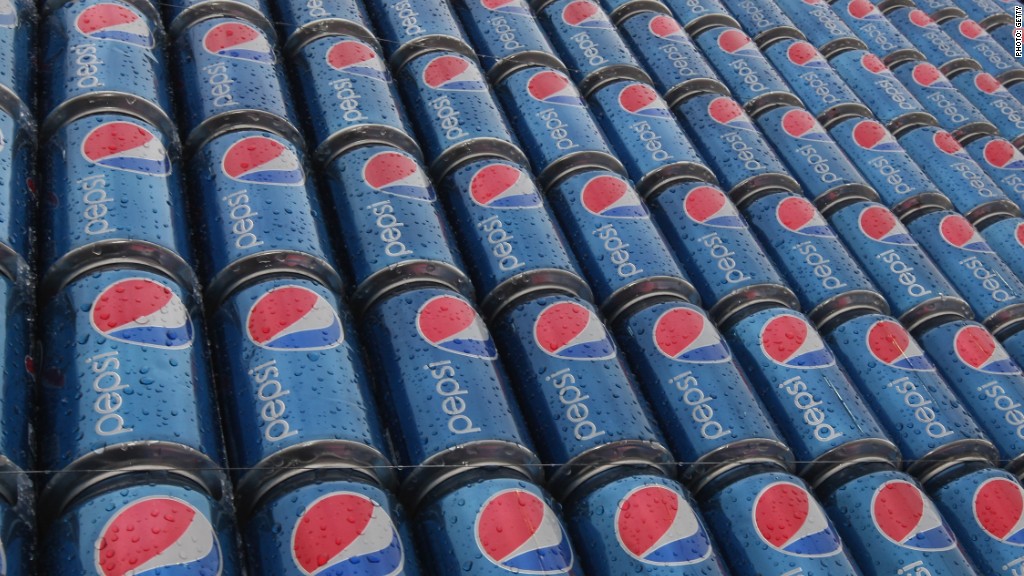 Diet Pepsi's new recipe is hitting store shelves, the company said Monday.
Pepsi's marquee diet soda will no longer be sweetened with aspartame; instead it will use a blend of sucralose. Caffeine Free Diet Pepsi and Wild Cherry Diet Pepsi will also make the switch, which the company said is in response to customer complaints about aspartame.
The change also comes amid a sales drop for the diet drinks.
Sucralose is the same artificial sweetener that's typically in yellow packets, branded Splenda, while aspartame is the artificial sweetener usually in blue packets, branded as Equal or NutraSweet.
Pepsi's North America CEO, Al Carey, said that diet drinks "are a definite drag on the business" at an investor conference in February.
"And the number one thing we see from consumers is a complaint about aspartame," he said. " Aspartame is the sweetener that seems to get most of the negatives in the press and on YouTube."
The new Diet Pepsi swaps one artificial sweetener for another. Pepsi already offers a low-calorie option made with stevia, a plant-based sweetener, called Pepsi True.
Artificial sweeteners have been the subject of bad press, largely due to a 1970s study linking them to cancer in lab rats. But there have been no studies linking the sweeteners to human health risks, according to the federal government.
Pepsi spokesperson Elisa Baker would not say whether the complaints that prompted the recipe change focused on safety concerns or taste, but the company stands behind aspartame's safety. Diet Pepsi sold in other countries will keep the old recipe.
Diet drink sales have declined as consumers opt for bottled teas and other non-carbonated beverages. Coca-Cola (KO) reported in April that Diet Coke sales were down 6%.
The new recipe is rolling out sooner than expected. Pepsi (PEP) CEO Indra Nooyi said on a July 9 investor call that the new drink would hit stores in late August. The company said Monday, however, that retailers throughout the U.S. are already getting the soda.